New relationship: 3M Health Care and Materials Management Microsystems
3M Health Care and Materials Management Microsystems recently announce plans to establish connectivity between Microsystems' SPM® sterile processing information system and 3M™ Attest™ Auto-readers and 3M™ Steri-Vac™ EO Sterilization Systems. This collaboration will provide hospitals more streamlined data collection, documentation and reporting capabilities.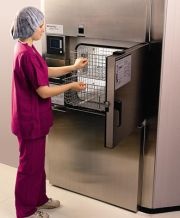 Under the agreement, Microsystems will offer additional modules to its existing software application that will include enhanced sterilization monitoring documentation capability and connectivity to Attest Auto-readers and Steri-Vac Systems. With these new offerings clients will enjoy greater accuracy and simplicity in the documentation process as more information will move electronically and more information will reside in a single location.
"Connecting our Auto-readers and Steri-Vac Systems with Microsystems' world-class sterile processing software system is a natural next step in 3M's effort to provide hospitals with the sterilization tools they need to deliver the highest standard of sterilization monitoring assurance," said Doug Patton, 3M Sterilization Assurance global business manager, 3M Health Care. "We believe the data sterile processing departments will now have as a result of this new connectivity will change the dynamic between the sterile processing department and the OR. Sterile processing will now have real-time quantifiable data to demonstrate quality control and sterilization effectiveness."
"3M and Microsystems share a strong commitment to sterile processing excellence. The integration of our proven, data-driven solutions is another way to arm sterilization professionals with the critical information they need to become a true partner in the surgical procedure process," said Clay Cannady, Microsystems' head of Sales, Marketing and Business Development. "Our software offers sterile processing departments the ability to track an instrument all the way through to the patient while documenting the human, machine and monitoring touch points required for delivering instrumentation on time and in a fit condition for use. With the pressure hospitals are facing to reduce hospital-acquired infections, this will be a key advantage for them."
About 3M Sterilization Assurance
With over 40 years of providing sterilization solutions, 3M Sterilization Assurance is a trusted choice for sterilization professionals. 3M Sterilization Assurance, a part of 3M Health Care's infection prevention platform, offers well known products including 3M™ Attest™ Rapid Readout Biological Indicators, 3M™ Comply™ SteriGage™ Chemical Integrators, and 3M™ Steri-Vac™ Sterilization Equipment to the health care market.
About 3M Health Care
3M Health Care, one of 3M's six major business segments, provides world-class innovative products and services to help health care professionals improve the practice, delivery and outcome of patient care in medical, oral care, drug delivery and health information markets. Learn more at www.3m.com/healthcare.