New hospital automates drugs distribution
Forli, Italy - With construction almost completed, the 550-bed Ospedale Nuovo G B Morgagni can now provide state of the art services for the community it serves.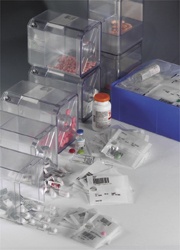 Among advances at the new hospital are an automated storage and distribution system for pharmaceuticals and a pneumatic tube system to deliver laboratory samples.

Dr Patrizia Grementieri, Project Manager at the new hospital, said: 'One of our top priorities is to supply patients with appropriate drugs, safely and efficiently. The Pillpick system lets us reduce errors remarkably when issuing drugs. The new drug management solution also saves costs and time compared with manual medication selection and distribution.'

As well as the Swisslog Pillpick system - used for patient/individual medication selection, supporting pharmacy staff in their dispensing and care personnel in administering the correct doses to each patient - the hospital has installed two Boxpicker units in its pharmacy, and a medicine cabinet with password-protected access in the emergency ward.

A pneumatic tube system (compressed air), also being installed by Swisslog, based in Buchs/Aarau, Switzerland, will transport test tube samples from the emergency department to the lab, alleviating the need for manual transportation.

The Pillpick system packs individual tablets, suppositories, phials, disposable syringes and other medications into small plastic bags. Depending on the chosen method of drug therapy, the system picks all medications to be administered to the individual patient on a given day. Tied on plastic rings these drugs are then delivered to the right wards in transport carts. About 70% of all the drugs supplied by the pharmacy to in-patients can be handled in unit doses by Pillpick, which marks the bags with barcodes and assigns them to each patient. The system also manages the return of drugs not administered by the hospital pharmacy.

Boxpickers - With these space-saving, automated cabinets, drugs that cannot be packaged in unit dose, e.g. multi-dose and large volumes can be handled and dispensed easier and better, Swisslog pointed out. 'For secure storage of drugs that must be available at short notice in the emergency ward, the hospital management in ForlÏ decided to use Medihive, our medicine cabinet that can only be opened by doctors and care personnel subject to prior identification. Access is granted only for one specific drawer. The metal slot is unlocked automatically, so that the operator can take out the medication requested. Through centralised storage and standardised processes Medihive helps to prevent dispensing expired drugs.'

In the next few months this wholly automated drugs system will be fully operational.