New generation of bedside terminals
Ensuring higher clinical efficiency and patient comfort at the point of care
Healthcare imaging specialist Barco announces the launch of the JAO ST-185B, the first of a new generation of JAO Smart Terminals for installation at the patient's bedside.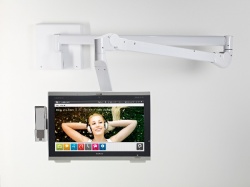 Combining superb ergonomics, unique software applications, and consumer-designed performance, the new generation of terminals will provide both patients and hospital staff with everything they need for an improved experience. 'With our bedside terminals, we aim to engage patients during their stay in the hospital as we believe active patients are healthier patients,' explained Warren Kressinger-Dunn, VP of Strategic Marketing for Barco's Point of Care Division.
'Our software provides patients with more tools for health education, service requests and communication with the care team. Information and interaction are key.' In terms of patient communication, Barco offers the latest applications. Real-time pop-up notifications inform patients about their doctor's schedule, and customizable message boxes ensure a more personalized patient experience. In terms of patient comfort, there are numerous entertainment options at the bedside, such as radio and TV, Internet access, games, and Video-on-Demand. 'We also provide patients with a sense of independence – by enabling them to assess the quality of care through patient surveys, select their own meals, or control the lights in the room', Kressinger-Dunn concluded.
Barco's bedside terminals provide caregivers with direct access to a patient's electronic medical records and the hospital information system while safeguarding patient privacy. Entering and retrieving data at the bedside, instant messaging with patients and remote consultations are just a few of the benefits that significantly help reduce the amount of paperwork and improve clinical workflow. The new 18.5" bedside terminal is thinner, lighter, and has a sleek, cuttingedge design. The terminal is powerefficient, incorporating LED backlights. The unit can be tilted, rotated 170 degrees, and comes with a multi-touch integrated touch screen. This unique combination enables medical staff to put the screen in the perfect typing position – facilitating charting and documentation – and allows patients to view the screen while lying down. The terminal also sports a barcode scanner which can be used for medicine dispensing or to identify patients and medical equipment, which can help reduce medical errors.
Barco is at Medica Hall 15, booth E22.
More on the subject:
More on companies: