National Health Service management under scrutiny
UK retail 'star' to examine the healthcare sector. Sweet Valentine's Day, when the government's Health Secretary Jeremy Hunt described Sir Stuart Rose, former Executive Chairman (2004-2011) of the British fashion, food and furnishings chain stores Marks & Spencer (M&S) as '…one of the country's most inspirational leaders'.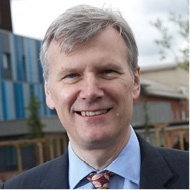 The accolade came with the announcement that Sir Stuart is to advise the Health Secretary on how to improve organisational culture and attract and retain exceptional managers as well as to make better use of those who already excel within the NHS by ensuring they spread their expertise to less healthy organisations within the service, or to establish national networks of NHS hospitals and services.
Back in 1972, Sir Stuart began his retail career at M&S as a management trainee and rose through the ranks until his departure in 1989 to join the Burton Group, primarily known for its men's tailoring. From 1997 there followed roles as CEOs of various top retail companies until, in May 2004, he was named Chief Executive of Marks & Spencer plc and then, in 2008, its Chairman. In that year he was also knighted for his services to the retail industry and corporate social responsibility.
In recent years, M&S had struggled to hold its position, with share value dropping by 30%. Sir Stuart is credited for his management towards to that end and he is now expected to find out how NHS managers can improve and become more visible in hospitals to ensure they are 'in touch with frontline patients, services and staff'.
Apart from a voiced scepticism about the transition from retail to public service, there is also concern regarding a potential a 'conflict of interest', since Sir Stuart is on the advisory board of the international private equity group Bridgenorth, a major shareholder of the private health provider Care UK; additionally, the firm is reported to be lined up to take over the running of NHS Trusts. (As one observer put it, 'the stench of hypocrisy and opportunism is suffocating'.)
However, Sir Stuart's appointment came when ministers were providing an update on the 'significant progress' made by 14 hospital trusts in which, previously, 'special mea­sures' had to be taken. This resulted in an overhaul in which 650 additional nurses or nurse assistants and 130 more doctors were recruited and 49 senior management changes were made. According to the report, the first 11 trusts targeted by those special measures last July are 'turning around' and, Jeremy Hunt pointed out, 'critical problems at those hospitals have been resolved'.
'The difference between good and bad care can often lie in leadership,' the Health Minister said, in refe­rence to the appointment of the former M&S chief – who, it is reported, will not receive any remuneration for his work, but is officially to report (briefly) on his findings at the end of 2014.
So, what will Sir Stuart do – and not do?
He will not review ownership structures, out-sourcing or the use of the private sector in providing NHS care.
Since NHS problems and failings have been blamed on poor management, during several hospital visits this lean, silvery-haired, immaculate management guru will act as a mentor to senior managers and explore the leadership challenges the NHS faces.
Critics have been quick to query the ability of anyone whose basic knowledge lies in retail. As Columnist Yvonne Roberts queried in The Observer: 'What could Rose possibly import from M&S to Britain's best-loved, albeit permanently re-organised, semi-privatised, constantly criticised and battered institution?'
Well, as Sir Stuart is aware: 'Clearly the NHS is a very different institution from M&S, but leadership, motivating staff and creating a culture where people are empowered to do things differently are crucial to the success of any organisation and I'm looking forward to helping in any way I can.'
Among the leading NHS hospital CEOs is Sir David Dalton, at Salford Royal Hospital, and he has also been appointed to look at how best practice can be shared and how the successful managers can get involved with the poorest hospital performers, as has been shown in the case of appointing those proved to be 'super heads' to focus on poorly performing schools and turn them towards success.
Sir Stuart and Sir David could make a 'very powerful' combination, declared Rob Webster, CEO of the NHS Confederation, which represents hospital trusts. Many people in this country believe that appointing top entrepreneurs from the business world (e.g. popularly Sir Richard Branson) to run the country could prove far more successful than having it run by career politicians.
After all, it is not unusual for the government to turn to such 'immortals' for specific guidance. We have yet to see whether the management of very sick people, knowledgeable professional medics and highly complex institutions where emergency situations can occur extremely rapidly, can indeed equate to the organisation of retail outlets, no matter how large.
Inevitably, Sir Stuart's report will be much discussed at the end of this year.