Diagnostic station DS20
Modern and practical design unites the most demanded functions
Schiller's Diagnostic Station DS20 simplifies the daily work: most vital signs and physical assessment tools united in one device; large, interactive touch screen; intuitive guidance and ease of use. Launch of the Diagnostic Station DS20 is going to take place at the ESC in London (29th August – 2nd September 2015).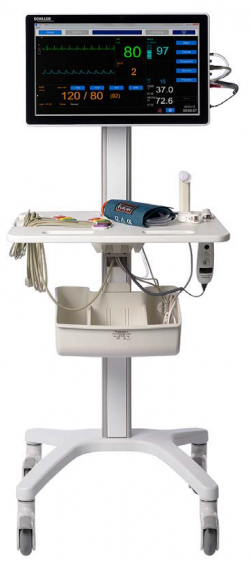 Fast and easy to use
The DS20 immediately detects connected sensors and automatically displays the corresponding value. This fast operation allows for easy addition or removal of parameters. Thanks to its intuitive user guidance Schiller's Diagnostic Station DS20 is self-explanatory and very little training is needed. The large interactive touch screen supports the highest userfriendliness.
One touch to the measurement
Simply touch the large, high-resolution colour display and you are in business recording, and selecting the highest quality ECGs.
1. Perform
2. Review
3. Store or export wherever you want
Connected
The Schiller's Diagnostic Station DS20 is a networked device. Seamless connectivity to EMR, PACS, HIS or SCHILLER's SEMA3 Cardiology Information System is possible and bidirectional communication allows for easy data access, while Wi-Fi with strong security enables direct and fast transmission.
Expandable
Easily add new functions and other devices or future technological developments. The DS20 is ready for the most common functions and will satisfy new requirements.

Source: Schiller
More on the subject:
More on companies: