Microscopy: Single-Lens Reflex camera shows real-time frame images
The Olympus E-330 digital micro-imaging system promises new perspectives for biological procedures: With the unique digital Single-Lens Reflex (SLR) camera real-time frame images can be shown on a LCD (Liquid Crystal Display).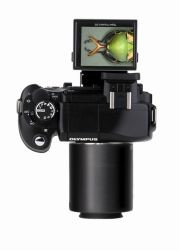 The first SLR camera with Live View for use with microscopes is based around a 7.5 Megapixel sensor which delivers frame images directly onto a colour high-resolution 2.5 inch LCD. Due to a 1.2x adapter, the camera can easily be used with other microscopes, a multi-cable can link the microscope to either a TV or PC monitor.
In case of long-term imaging applications, the E-330 digital micro-imaging system offers two advantages: The microscope can continue to operate while watching the images on a monitor and additionally, the use of the multi-function remote control unit avoids camera shakes and vibrations during an application.
Because of the high-sensitive 7.5 Megapixel image sensor, the user maintains high quality images with accurate edge-to-edge details with the possibility to enlarge parts of the generated images up to 10x. The larger and high-resoluted LCD allows a convenient observation of a procedure due to its advanced swivel capability which provides clear images over a 160° viewing angle.
Finally, the images can be transferred easily to computer via USB, multiple slots support CompactFlash Type I and II, Micro Drives or xD-Picture media cards. Of course, the E-330 can be controlled by the optional Olympus cell family software, which enables full camera control in live mode and image acquisition.
More on the subject:
More on companies: