Merger Agreement between MEDRAD and Possis Medical
As announced today, MEDRAD, an affiliate of Bayer HealthCare and a leading provider of contrast injection systems used to diagnose cardiovascular disease, has entered into a definitive merger agreement with Possis Medical, leading provider of mechanical thrombectomy devices used to treat narrowed or blocked blood vessels. MEDRAD will acquire Possis Medical in a cash tender offer for US-Dollar 19.50 per share (total value approx. 361 million US-Dollar).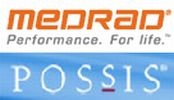 Cardiovascular disease is one of the main causes of death worldwide. In combining their two highly compatible sales organizations, MEDRAD and Possis Medical can offer a broader, more comprehensive suite of products for the treatment of this patient group.
"This merger will capitalize on both companies' strengths to deliver growth in our current markets, and create a formidable cardiovascular portfolio in the future," explains John P. Friel, MEDRAD President and CEO. MEDRAD's distribution infrastructure offers an exciting platform for the expansion of Possis Medical's product portfolio into attractive international markets while the combination of thrombectomy platform and vascular injection systems offers a highly complimentary focus on high pressure intravascular fluid management. "We welcome Possis Medical as the cornerstone of MEDRAD's cardiovascular strategy. It is a truly compatible partnership in terms of product performance, company growth and employee culture," Friel adds.
"Our shared history of innovation bodes well for product development beyond our core businesses, and provides tremendous opportunity for growth for our business and employees. In addition, MEDRAD will enable us to broaden our geographic reach without adding infrastructure. We look forward to joining the Bayer and MEDRAD organization," Robert G. Dutcher, Possis Medical President and CEO, concludes.
Both companies prepare to develop new and innovative applications on their broadened product base.
More on the subject:
More on companies: