Purification
Merck advances lab water purification technology with Milli-Q IQ 7000 system
The new Milli-Q IQ 7000 ultrapure water system is designed to make work in the lab easier and more efficient than ever. Its ergonomic design improves productivity; an HD digital touchscreen enables intuitive navigation and quick access to information; and ech2o mercury-free UV lamps are environmentally friendly.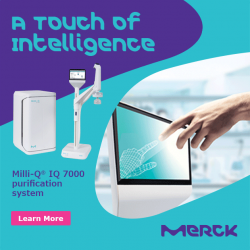 "Our customers are looking for compact, ergonomic systems and software so that they can advance science, further faster," said Udit Batra, Member of the Merck Executive Board and CEO, Life Science. "Our new lab water system addresses these pain points, allowing scientists to focus on problem solving, without worrying about the purity of their water. This new system reflects our legacy of pioneering innovations in lab water purification."
The Milli-Q IQ 7000 ultrapure water system is ergonomically designed to improve productivity. The new Q-POD ultrapure water dispenser offers superior flexibility, with simple and intuitive dispensing. Just a twist of the new dispensing wheel delivers water at the flow rate needed — from precise drop-by-drop or up to 2 L/min. Dispensing options can also be selected from the Q-POD Home screen. Water quality parameters remain onscreen while dispensing and are constantly monitored, for full confidence in water quality.
The compact system can save precious work space by allowing integration of the water production unit on the wall or under a bench. Each system can be used with up to 4 Q-POD dispensers, installed near-by or split between adjacent labs. Cabling is available in customizable lengths and enclosed in protective sheathing for a neat, uncluttered installation. A range of POD-Paks lets you match water quality to various application needs.
All everyday interactions with the new Milli-Q IQ 7000 occur via the Q-POD's HD digital touchscreen, just like on a smartphone. Information is at your fingertips and navigation is intuitive, providing an efficient user experience with no need to search through a user manual. Advanced notices appear onscreen when consumables need replacing, and the system gives step-by-step guidance on how to replace cartridges.
Merck has improved environmental sustainability of the system by pioneering novel mercury-free UV lamps. Other sustainability strong points are a smaller system footprint (-23%) and reduced cartridge sizes (-33%). This reduces plastic volume in manufacturing, decreases packaging, and beneficially impacts product transportation and waste. The system also supports a paperless environment as it can be connected to lab networks through an integrated data management system, giving users quick and easy access to documentation online.
Source: Merck