I-View software
Mammography fusion enhanced by contrast
Using an iodinated contrast agent, I-View software on the Hologic tomosynthesis system enables the user to image the functional 2-D contrast uptake and the morphological mammography images in rapid sequence and combine these three image sets into a single co-registered study.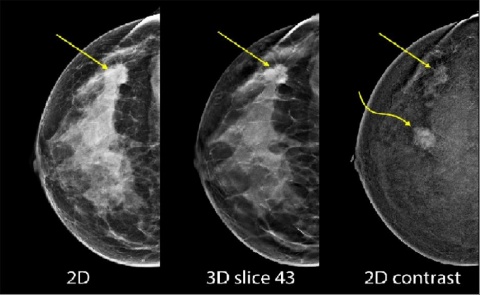 This image set from an iodine contrast mammography study was acquired under a single breast compression. The lesion pointed to with the straight arrow can be identified with the 2-D image (left), although the tomosynthesis slice (centre) shows the distortion associated with the lesion more clearly, and there is also iodine contrast uptake in the lesion in the contrast image (right).
The lesion pointed to with the curved arrow has strong iodine uptake, but this cannot be identified easily in the dense areas of the non-contrast mammographic image seen here.
In this unique study, the 2-D contrast image can identify potential lesions based on their physiological state, which can cause increased contrast agent uptake. The standard 2-D and 3-D Mammography images can then be reviewed for morphological information.
Landmarks from the mammography images are also helpful for follow-up tomosynthesis guided biopsy procedures.
More on the subject:
More on companies: