Logi Flex
Logi Flex, manufactured by the award winning firm Surgical Innovations Ltd, is a flexible laparoscopic device that uses pioneering flex technology to provide surgeons with better rigidity during delicate surgical procedures.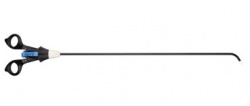 Launched in Paris in August, the device is made from resposable technology, which delivers the cost effectiveness of a reusable instrument but has the optimum performance of a disposable instrument, Surgical Innovations reports. 'It has been specially developed in conjunction with laparoscopic surgeons, who understand the needs of clinicians and patients and is proving to be a successful alternative to traditional disposal instruments in hospitals around the world.'
The company' products and the Surgical Innovations team will be at Medica. 'The congress will give us an opportunity to talk to international surgeons about their individual needs and also meet with our dedicated team of worldwide distributors to further enhance relationships,' said the firm's Managing Director Graham Bowland, Managing Director of Surgical Innovations Ltd.
See Logi Flex at Medica. UK Pavilion. Hall 16, Stand G10