Lifebridge B2T
Germany's portable cardiopulmonary support system is in clinical use
Worldwide interest in portable systems for cardiopulmonary support has grown significantly. While some systems are at the brink of market introduction, German company Lifebridge Medizintechnik AG reports that it is 'at the top of this medical technology market', for its smallest, lightest (18kg) system, Lifebridge B2T ('Bridge to Therapy') has been in clinical use since the beginning of 2008. 'Since then it has proved its life-saving functionality and safety on more than 100 patients,' the firm points out.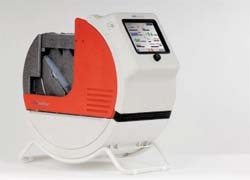 'Just two years ago, the prospect of targeted diagnosis and intervention for high-risk patients with myocardial infarction or cardiogenic shock (i.e. cardiac and circulatory failure after an infarction, which has a fatal outcome in two thirds of cases) under stabilised circulation and reperfusion of the shock organs seemed like mere wishful thinking,' the company explains. Lifebridge Medizintechnik AG recognised this prerequisite for real progress and introduced the world's first mobile heart-lung machine, Lifebridge B2T, in June 2007.
'This year we've already successfully treated 100 patients in a whole range of coronary emergencies,' says Manfred Salat, Chairman of the Board at Lifebridge Medizintechnik AG. 'The system impressively proved its fast applicability, low-risk operation and benchmark-setting safety standards.'
Tried and tested operational safety
Complications, often deadly, arise when heart-lung machines pump air instead of blood into a patient's body due to user errors or undetected malfunction. The fact that this is no theoretical consideration is highlighted by a whole range of fatal incidents in recent times, the company points out, confirming that its cardiopulmonary support system addresses this potential danger for the patient with a unique air elimination system. 'The multiple patented, automatic system removes air bubbles before they can enter the patient's body, causing a fatal embolism,' Manfred Salat explains. 'We're setting a technological safety standard that has not yet been matched by any other system, whether mobile or stationary.' Whether systems still due to be introduced to the market achieve this level of safety remains to be seen, he adds.
The Lifebridge heart-lung machine is already used as standard equipment for emergency care in eight German heart centres and a further 19 hospitals in Germany and abroad. 'It immediately stabilises a patient at risk of an imminent shock and gives the cardiologist the necessary support for catheter treatment, ensuring a lasting result; it facilitates transport within a hospital, from the admitting hospital to where catheterisation is performed, or to the operating theatre respectively, and is available in the accident and emergency unit for fast circulatory support during prolonged resuscitation. The system can be prepared for use, and used, by trained medical staff without problems even under pressure during emergencies.'
The Lifebridge B2T is licensed for mobile use with the DIN 1789 CE certification awarded in January 2008 and has demonstrated its full capabilities for inter-hospital transfers, both on the ground and in the air.