1st portable heart-lung machine
by Holger Zorn
Lifebridge is the first portable heart-lung machine which promises a great success for the clinlical use.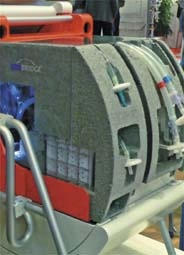 Lifebridge, reported as the first portable heart lung machine, and presented at the 34th Annual Meeting of the German Society for Cardiovascular Engineering last month, provides instant haemodynamic stabilisation for patients suffering from cardiogenic shock. The machine is attached percutaneously via femoral vessels to the patient. Afterwards, air elimination of the heart-lung machine is performed automatically. Due to the integrated oxygenator, Lifebridge, unlike conventional cardiac assist devices, can fully take over the functions of the heart and lung.
In animal testing, adequate flow rates and gas exchange were demonstrated under simulated transport conditions.

The first clinical use is planned for later this year. The developer, a German start-up headquartered in Munich, hope for similar successful results. Lifebridge will become particularly interesting when safe and reproducible out-of-hospital use has been proven because, in many cases, it is the lack of oxygen supply between the event and a cardiological or cardiosurgical intervention that causes irreversible organ damage - and sudden cardiac arrest can happen to anyone, anywhere and any time.