LESS Surgery
Introduced in mid-2007, Laparo-Endoscopic Single- Site Surgery (LESS Surgery) has shown itself as one of the most significant innovations in medical technology, and Olympus is among the first to provide a complete surgical instrument set tailored specifically for LESS Surgery.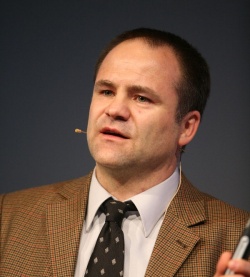 The advantages of LESS Surgery are evident: single-site access, e.g. through the navel, means that there is practically no scarring and wound healing is less uncomfortable. Olympus has worked with experts to develop a set of instruments specifically tailored for operations using singlesite access and significantly simplify adaptation of the new method.
'Access through the navel is made using a TriPort or QuadPort, through which up to three hand instruments can
be simultaneously guided,' Olympus reports. 'The singleaccess tailored HiQ LS hand instruments have a double
angulation and their curved shaft design not only makes optimum use of the limited space, but also means that they are used in a similar way to standard laparoscopies: the right hand remains on the right side during operation and vice versa. With the instruments previously used for LESS Surgery, doctors sometimes had to work mirror-inverted.'
Professor Jens-Uwe Stolzenburg (Leipzig University) added: 'Using the new instruments, operations are truly
minimally invasive. LESS Surgery is suitable for practically all laparoscopic procedures and already shows great potential for the future.' The new video-laparoscopes EndoEYE LS and LTF-VP transfer the advantages of the successful Olympus laparoscopes to the new operating method. The EndoEYE LS handle can be turned by up to 70° and therefore does not interfere with use of the hand instruments.
For these endoscopic systems Olympus offers the ports, hand instruments and the optics needed for the minimally invasive surgery sector, and adds that it expects hospitals to be able to cut costs due to the decrease in the risk of postoperative wound infections.
More on the subject:
More on companies: