Sponsored • Pathology equipment
KUGEL medical – Eco-friendly tissue grossing station GrossPath GP-1500
GrossPath – the special worktable designed to ensure a pollution free, laboratory-grade working environment for slicing and preparing histological slide preparations. Its compact design makes the GrossPath Special Worktable the perfect laboratory equipment, especially for small facilities.
As a product of our ECOline range, this worktable has been designed with a special view to conserving energy and resources – while delivering outstanding extraction results.
Buy it, set it up and power it on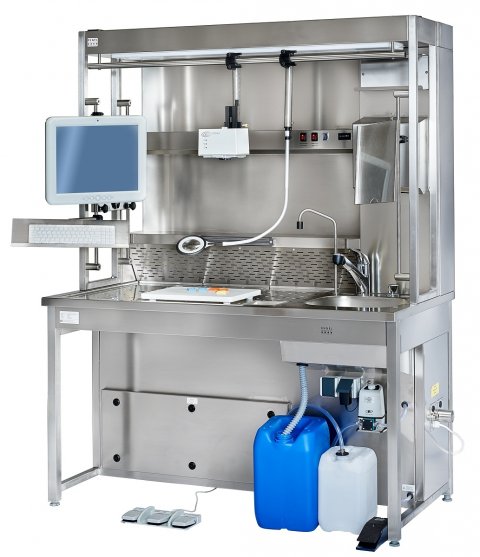 Thanks to its generously proportioned active-carbon air recirculation system, the GrossPath Special Worktable is ready for immediate use – no need for installing a costly separate air ventilation system! As a result, a customer' supplied ventilation is not necessary which can reduce investment costs considerably and even overheads by up to 30 %. Contaminated air is not only vacuumed downwards but also backwards throughout the entire working area. The large permanganate carbon filter intercepts, filters and purifies efficiently contaminated air and directs the clean air back to the laboratory. This prevents that contaminated air rises and is being taken up by the employees of the laboratory. – for optimized removal of any health-hazardous vapors. Formalin concentrations will even be significantly below the maximum allowable concentrations (MAC) throughout the entire extraction zone.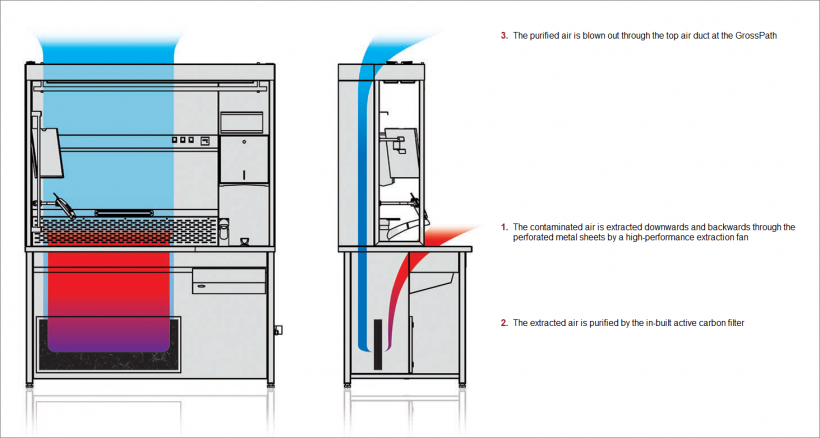 Additionally, the GrossPath has a soundproofed exhaust fan that substantially keeps the noise level to a minimum. Moreover, the tables are even being delivered ready for use. Hence, laboratory processes are not disturbed or even interrupted by expensive installation work.
Thanks to its large permanganate carbon filter, the table can be in use for up to 800 working hours* - which reduces operating costs even further. The filter can be easily replaced by means of an inspection hole in the table's substructure.
* operating time varies between 600 and 800 working hours
Outstanding advantages of the GrossPath GP-1500:
Dual workstation with extra-large working surface with sturdy, perforated metal sheet inserts
completely made of high quality, polished stainless steel (material code no. 1.4301 – ANSI 304)
Built-in Illumination with "daylight" quality, built-in LED lights dimmable and with rocker switch, Wide beam 6000 Lumen and 4000 Kelvin – for gross imaging without any need of additional flashlights
Lateral rod system and horizontal railing system for accommodating document holders, dictaphone brackets and many more (optional**)
Seamlessly welded 370 x 370 x 150 mm sink with mixing tap and pull-out rinsing hose
Integrated exhaust-air connection with volume flow control
Integrated sprinkler system installed underneath the perforated metal sheet inserts, including regulating valve
Formalin drain with strainer screen insert
Exhaust air duct blowing from bottom to top
Optional** electro-hydraulically height adjustable from 850 mm to 1050 mm
**Not included in the standard scope of delivery.
More on the subject:
More on companies: