IT helps ensure patient safety in the ICU – and beyond
Integrated information management reduces risks and cuts cost, Finn Snyder reports
Integrated information management reduces risks and cuts cost, Finn Snyder reports. Intensive care units (ICUs) are vital in healthcare. ICUs in US hospitals, for example, treat six million of the sickest and oldest patients annually, according to a document recently published for the Massachusetts Technology Park Corporation, which states that choices about how to manage them carry high stakes: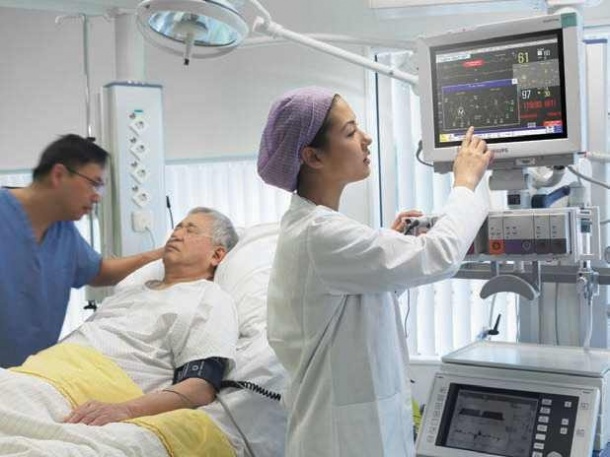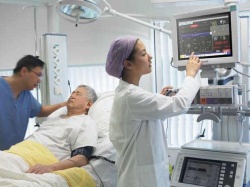 'ICUs have both the highest mortality and the highest costs in healthcare, accounting for 4.1% of the nation's US-$2.6 trillion in annual healthcare spending, or nearly $107 billion per year.' The increasing number of critical care patients and the severity of cases in an ageing population adds to this complexity, as does the decreasing supply of critical care physicians.
In Europe, the situation is basically similar, even if focuses differ largely: Whereas Germany maintains approximately 24.6 beds per 100,000 people, the UK's NHS only has 3.5 ICU beds [2010]. Experts suggest that information technology (IT) can help improve the outlook. 'IT may improve the quality, safety, and efficiency of medicine,' states a recent article by Belgian author Kirsten Colpaert et al., 'and is especially useful in [ICUs] as these are extremely data-rich environments with around-the-clock changing parameters'. However, data regarding IT implementation rates in ICUs is scarce and restricted mostly to non-European countries.
The authors provide insight about the implementation of IT in Flemish ICUs: Computerised display of laboratory and radiology results is almost omnipresent, but computerised physician order entry (CPOE) is rarely used; 65% of these ICUs use an electronic patient record (EPR), 41.3% use CPOE for medication prescriptions and 27% use computerised medication administration recording. The implementation rate of dedicated information systems, however, is 'surprisingly low', due to initial investment costs, integration problems with the hospital information system (HIS), concerns about user-friendliness, the need for dedicated staff, and a questionable costbenefit ratio. 'Uptake has so far been slow in the UK and worldwide'
Findings by UL authors Nicholas Lees et al. are similar to the Flemish study; in Information technology in anaesthesia and critical care potential benefits cited are documentation accuracy, electronic prescribing reducing errors, facilitating audit and research, and clinical decision support. 'Cost is still the main barrier to implementation, but other factors are IT problems and uncertainty from clinicians.'
Systems integration, virtual simulation to guide study
How can barriers be overcome?'A hospital ICU contains 50 to 100 pieces of electronic equipment that may neither communicate nor work together effectively', says Peter Pronovost, MD PhD, director of The Armstrong Institute director and senior vice president for patient safety and quality for Johns Hopkins Medicine. He compares healthcare and aerospace industries: 'When an airline needs a new plane, they don't individually select the controls systems, seats, and other components, and then try to build it themselves.' The piecemeal approach by which hospitals currently assemble ICUs is inefficient and prone to error, adding risk to an already intricate environment.
The Armstrong Institute, which oversees all patient safety and quality efforts throughout Johns Hopkins Medicine, is designed to rigorously apply scientific principles to the study of patient safety, also beyond Johns Hopkins. The Institute is committed to eliminating preventable harm for patients, reducing health disparities, ensuring clinical excellence, and creating a culture that values patientcentred care. Armstrong recently entered into collaboration with a global security and technology company Lockheed Martin, which Dr Pronovost believes, 'has the expertise to integrate complex systems to help us build a safer and more efficient ICU model not just for Johns Hopkins but for patients around the world.'
A single system that could triage and prioritise patient alarms based on individual risk of cardiac or respiratory arrest, for example, could prevent alarm fatigue, when clinicians sometimes are inundated with a chorus of competing signals. This could promote an understanding of the risks at a personal level, based on each patient's age,diagnosis, and family history. 'Flight simulators and systems integration revolutionised the aerospace industry, and similar concepts can be applied to increase effectiveness and efficiency of the healthcare industry,' says Dr Ray O Johnson, Lockheed Martin senior vice president and chief technology officer. '[Our] advanced computer- generated modelling and simulation will allow scientists to input ICU data to mimic possible outcomes of life-like scenarios.
The software can also be used to train healthcare providers on newly engineered devices or processes, similar to the way pilots learn to respond to highpressure scenarios.' Hopkins researchers will test alternative approaches to ICU care in a learning laboratory with a virtual simulation theatre, engineering workshop, and a testing area with simulator mannequins that imitate patient conditions and responses.
Safer monitoring after transfer to ward
Today, ICU patients are transferred to general care wards at an ever earlier moment in their care process. Therapeutic aspects and cost pressures are key drivers of this trend. For this reason, nurses are increasingly confronted with, and challenged by, more critically ill patients. Statistics show that between 4-17% of ward patients experience a critical situation that is not recognised in time in all the cases; subsequently, the average length of stay goes up from 18.4 to 38.5 days, according to a study presented by Philips. Costs for care increase accordingly. A third of all deaths occur after transfer from ICUs.
Those figures illustrate the need for technology to help monitor the health status of transferred ICU patients. A portable spot-check monitor from Philips includes a built-in Early Warning Scoring system designed to support nurses in the routine checking of vital signs. Values can be compared automatically with the patient profile, and sets off alarms when values become critical. There are also wireless sensors developed for ambulatory patients who need frequent monitoring. 'Current trends demand the frequent monitoring of many patients outside the ICU, and today's manual monitoring procedures are often no longer sufficient,' said Andreas Hvarfner, MD PhD, of Lund University Hospital, Sweden. 'Critical changes in the patient's health status are not always detected in time. Intelligent monitoring and early warning systems can help us to intervene at an early stage in order to avoid the occurrence of critical events, which may considerably increase patient safety.'
The promise of the tele-ICU
In this context, tele-ICU is a further approach: telemedicine technology enables clinicians in a 'command centre' to remotely monitor, consult, and care for ICU patients in multiple and distant locations, explains the Massachusetts Technology Park Corporation report. By increasing the number of ICU patients that critical care teams can manage, tele-ICUs extend both productivity and the reach of specialists. The report, with data collected from three sites, describes a demonstration project that tested the clinical and financial benefits of tele-ICU technology on ICU mortality and ICU length of stay. The study results show that telemedicine technology leads to a significant decrease in patient mortality; patient ICU stays were shorter; tele-ICUs have a rapid amortisation for hospitals; and tele-ICUs produce a substantial financial benefit for payers.
Authors summarise: 'Taken together, the clinical and financial benefits of a fully implemented tele-ICU system offer a win-win-win opportunity for patients, hospitals and payers…. Now that tele-ICUs have a strong reputation based on clear evidence, we must seize the chance to speed the adoption of this valuable technology…. We cannot afford to lose this opportunity to improve the quality and control the costs of critical care'.
The outlook
Availability of patient data to physicians 'anytime, anywhere' promises to benefit patient outcomes, adequate use of staff resources and cost. According to medical engineer Jimmy Johansson, at Skåne University hospital in Lund, Sweden, major barriers to integration of information sources are organisational problems in healthcare and competition among medical devices manufacturers, many of which promote proprietary standards. Conformance with standards such as HL7 and IHE profiles, he underlined, will provide the necessary basis for data exchange.