ISICEM 2012: So much to discuss…
Neuromonitoring, new medical emergency teams, organ harvesting, pandemics and much more
When the ISICEM 2012 opens this March, Brussels will again experience a healthy influx of medical specialists intent on hearing the most recent, clinically relevant developments in research, therapy and management of the critically ill.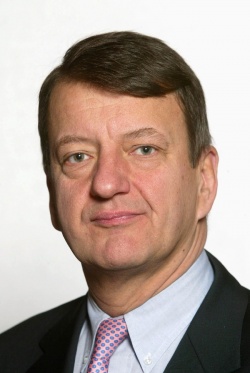 Probably no other European medical event is so intertwined with its Congress President than ISICEM. Professor Jean-Louis Vincent, Head of the Department of Intensive Care at Erasme University Hospital in Brussels, not only launched the meeting in 1980, but has grown into the biggest gathering of its kind worldwide. In 2012, more than 6,000 visitors from 100 countries will participate. In the lead up to this year's event, EH reporter Karoline Laarmann interviewed the professor about the fate of sepsis studies and the advent of intensive care without walls.
Professor Vincent is deservedly pleased. Participants at this year's ISICEM will hear details of a number of new clinical trials -- published for the first time in Brussels. Among these are new study results comparing several types of intravenous (IV) solutions including albumin, hydroxyethyl starch or saline solutions will be presented. 'We still lack solid data approving the benefit or superiority of some agents for IV therapies,' Vincent explained.
'Other clinical research engages in the field of glucose monitoring. We know that blood sugar needs to be controlled more strictly, but this requires reliable principles of measurement. A number of companies are now working on the development of smarter glucose monitoring systems to decrease mortality as well as morbidity in intensive care patients. With exceeding attention, we also expect the first presentation of the full results of the PROWESS-SHOCK trial on the use of activated protein C in the treatment of severe sepsis.
Prowess-Shock kicked off a controversial discussion not only in the treatment of sepsis but the design of sepsis studies in general. 'It was a follow-up of the multi-centre PROWESS trial (Recombinant Human Activated Protein C Worldwide Evaluation in Severe Sepsis), which was cut short after a lower mortality rate showed up in the treated group. On the basis of this analysis, Eli Lilly launched the substance drotrecogin alfa under the drug name Xigris in the US (2001) and in Europe (2002). 'Xigris is an anticoagulant that influences the endothelial cell function in severe sepsis. However, after the market introduction, other randomised studies could not underline the Prowess results in patients with lower severity, or in children.
Instead, some concerns about severe bleedings piled up, so the European Medicines Agency (EMA) demanded a repetition of Prowess in 2007. This follow-up study -- Prowess-Shock -- confirmed the negative experience with Xigris, which obliged the manufacturer to take the product off the market in 2011. So the question is: Do we need two trials in the future before a new drug is marketed? If this is the case, the pharmaceutical industry will stop developing new drugs, because it will become too costly. Besides, the companies want to commercialise their products as soon as possible to make the most of their industrial property rights.'
Could this end sepsis studies? 'Hopefully not -- in fact, we must prescribe what kind of studies we exactly need. Sepsis is a very heterogeneous syndrome, so we need to be more specific in the selection of patients incorporated in these trials. If investigators enroll patients who may die or survive anyway in a trial that evaluates the drug effects on mortality, the collected data is worthless. Unfortunately, the criteria to select probands based on fever and tachycardia are too loose. We need more precise descriptions of patient selection, like biomarkers, for future investigations.'
What technical improvements will take centre stage at ISICEM? 'We cover innovations in all fields but very exciting are the new techniques in neuromonitoring,. The brain was a kind of black box until recently. We could only gain some information about, for example, electrical activity of the brain by an electroencephalogram, or by monitoring intracranial pressure. There are now some new systems that allow the assessment of cerebral blood flow and oxygenation. 'More and more institutions introduce the new concept of Medical Emergency Teams (MET) in their hospitals where intensive care is practiced without walls and crossdepartmental.
The focus of these inner-clinical teams lies on early interventions to avoid impending cardiopulmonary reanimation or evitable ICU admission. There are also some new mobile systems gaining ground that allow better monitoring of patients on the hospital wards. These devices that can not only continuously monitor the heart rate, respiratory rate, blood pressure, blood oxygenation, temperature and other simple variables, but also integrate them to result in more complex intelligent alarm system.'
ICU teams often face life or death situations. Which areas currently provoke ethical debates? 'An abiding theme remains -- organ donation, of course. Medical and technical advances have broadened the range of organ transplantation strategies. Thereby, new ethicaljuristic questions emerged on how to implement these new strategies. 'As a result, in the EU various terms and conditions circulate that apply to organ harvesting. Due to the fact that 90% of deaths are medical decisions to stop life support systems, in countries like Belgium or the Netherlands we do remove the organs not only in the case of brain death but also after cardiac arrest. There are many institutions like Erasme University Hospital where we also offer the possibility of non-heart beating organ donation, with the relatives' consent, of course.
'Another big ethical issue to be extensively debated will be future pandemics. ICUs are small departments already working with full capacities and resources at all times. What can we do when there are not enough beds, machines or medical staff to treat a critically ill patient population? We have to answer these questions now, because we don't know when the next pandemic will come -- but we know it will come.'