'Huge progress' in the ICU
You'll find Élie Azoulay everywhere during this year's International Symposium on Intensive Care and Emergency Medicine (ISICEM).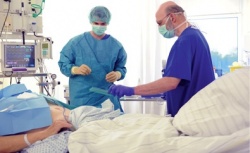 The Editor-in-Chief of the official journal of the European Society of Intensive Care Medicine, he will lead state-of-the-art review sessions for non-invasive ventilation and therapies in sepsis, as well as present talks on infections in the intensive care unit (ICU), the intubation of patients and new admission policies for cancer patients.
On the first morning of the congress, which attracts 7,000 specialists from 96 countries, Dr Azoulay will chair a session aimed at confronting a simple question: 'Have we made progress?' Presentations will cover three of the perennial ICU challenges: acute respiratory distress syndrome (ARDS), sepsis and renal failure.
Ahead of the ISICEM meeting, European Hospital spoke with Azoulay in Paris, where he is a professor of medicine at the Sorbonne University and the Assistant Director of the ICU at the Saint-Louis Hospital. Simply asking whether we really have seen progress in the ICU was enough to inspire a highly organised and insightful response.
Greater precision in defining diseases
'The first point is that we have progressed in defining diseases with greater precision. Here we have seen huge progress in focusing on specific diseases rather than syndromes,' he began.
'In ARDS, the Berlin definition launched by the European Society of Intensive Care has very much improved how we see the disease, going beyond acute lung injury and classifying ARDS for appropriate treatment and therapeutic strategies.
'Similarly, the updated Guidelines on Surviving Sepsis Campaign have also strengthened a common management for patients with septic shock. This was the result of a tremendous multinational effort where the critical care community acted like one person. People from every country provided evidence, giving clinicians an opportunity to establish a minimal standard of basic care.
'This is one of the strengths coming from a new approach to studies and guideline where, before moving to a higher level of management, we are at least providing a common, effective, basic standard for all patients everywhere in the world.
'I was very impressed by the number of times these papers have been accessed online. We've seen up to 30,000 hits for downloads of the papers that are in open access in Intensive Care Medicine. This tells me we are reaching the critical care community everywhere in the world and they find the 2013 updates to Surviving Sepsis Campaign worthy of their interest.
Trials show better patient outcome
'The second point is asking whether interventions translated into improved outcomes. I would say yes, we have progressed here.
'In ARDS, over a certain number of years, we have seen great improvements in survival for these patients by providing ventilation with low tidal volumes. Then, a study on paralytic agents in patients with severe ARDS also reported survival benefits.
Moreover, this year we saw advances in two areas – first there was the PROSEVA study, from a French group, showing there is tremendous improvement in survival in ARDS patients ventilated using a prone position. There was also another paper from the IMPROVE trial, an impressive effort, which shows using the protective ventilation strategy for patients undergoing operations also decreases the number of post-operative complications.
'In septic shock, we also closed the story on activated protein C with the publication of the multinational PROWESS-SHOCK trial that is impressive for its size and for providing proof that survival was not improved. The Xigris saga is now ended, and while we cannot say we made progress, at least we are avoiding a treatment that may have side effects without demonstrating benefits. Other treatments have been tested in septic shock patients with no significant progress, which brings me to my third point.
Controversial debate about hydroxyethyl starch
'We have made progress in controversy, as well. There is quite a huge debate over patients receiving hydroxyethyl starch (HES) for fluid expansion. Plenty of meta-analyses have shown that these patients could have an increased incidence of acute kidney injury, increased bleeding. Some showed an increased number of patients who were dying.
'This year the CRISTAL study shows there is no harm provided by HES; but the level of suspicion about HES is high. The question is still there; the controversy is still there. I don't think another controlled clinical trial will resolve it. For this, we need to sit together and discuss decisions, because, while official agencies are still reluctant to approve HES based on the level of proof that harm may be real, clinicians still need to be convinced that HES is at least useless.
Studies are warranted in non-ICU patients, such as peri-operative care and emergency medicine patients, as well as collaborative studies with nephrologists that go beyond epidemiology and comparative studies.
'Overall, the critical care community worldwide has very much enriched medical literature this past year with a high level of quality papers and rigorous studies. We've become better at defining standards of care, as well as targets for improvement that will be tested over the next few years.
'In conclusion: 'Many challenges remain,' said Dr Azoulay. 'We need to establish a better standard of care for even more critical care situations; to better define ICU admissions policies; to better work in multinational trials and share data with other countries. This is the only way to move forward, with big patient cohorts for observational studies and big trials, where there is less bias based on a specific type of ICU management.'
Profile:
In addition to serving as the Editor in Chief of Intensive Care Medicine since early 2013, Professor Élie Azoulay MD PhD is a regularly published author of studies on a range of acute conditions for patients in the ICU. He is a world authority on post-traumatic stress symptoms in family members of intensive care unit patients and co-authored the book 'End of Life Care in the ICU: From Advanced Disease to Bereavement.
He founded the French Famirea Study Group to evaluate the ability of critical care clinicians to provide effective information to ICU patients and families.