Article • Improved monitoring
Intelligent shirts 'watch' cardiac patients
A pioneering study has certified that wearable technology produced better results in monitoring cardiac patients and improving their quality of life compared to conventional systems.
Report: Mélisande Rouger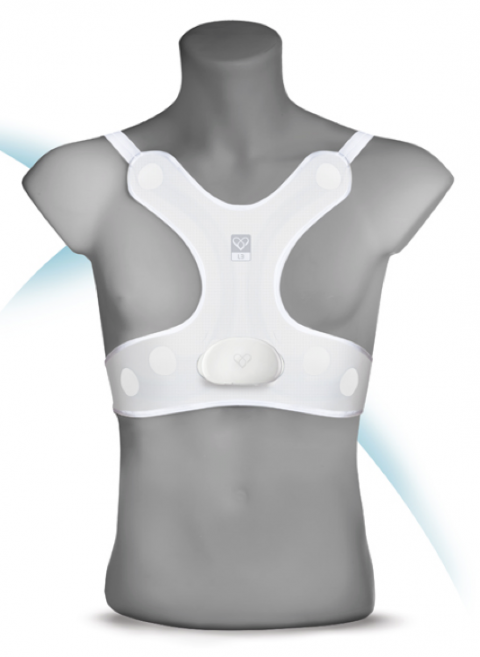 European Hospital spoke with Spanish cardiologist David Del Val MD, who led the study, before he presented his results at the European Congress of Cardiology held in Barcelona.
David Del Val: 'Medicine, and more particularly cardiology, is experiencing a real technological revolution. Many devices have been developed to improve diagnostic therapy efficiency and patients' quality of life. However, very few studies have actually measured the pertinence of these devices in real life. This study is a pioneering work because it compares efficiency in a new wearable device and conventional systems in clinical practice. The study was designed to compare monitoring efficiency in terms of perceived life quality benefits in patients using a wearable system developed by a company called Nuubo and conventional electrocardiographic monitoring systems.
150 patients alternatively used intelligent shirts and a conventional ambulatory monitoring system to monitor their cardiac rhythm during 24 hours. Results showed that the effective monitoring time was higher with the new system using wearable technology compared to the conventional system. Questionnaires answered by patients also revealed that quality of life indices were higher in those who used a wearable device.
Our cardiology department started work with Nuubo's technology five years ago. We have worked with the same company on other projects to evaluate prolonged electrocardiographic monitoring over a week and a month, and electrocardiographic monitoring on sportsmen during competitions. We obtained very positive results in both projects. Personally I have always been very interested in medical technology advances, especially for cardiology; that's why I seized the opportunity to lead the first clinical experiments with Nuubo's monitoring system.'
Are collected data then stored in the patient's electronic health record?
Del Val: The data generated by these devices is stored on a memory card and can be downloaded and analysed thanks to dedicated software. We write a report based on this data, which is kept in the patient's health record. Unfortunately, in our hospital, there isn't any system enabling connection and incorporation of this data directly into the electronic clinical history, which doubtlessly would be a great advance.
Are you or your colleagues working on other wearable technology projects?
Del Val: For the moment, I'm not involved in other projects validating wearable technology, but I consider this to be a field with major projection for patients suffering chronic diseases. Our cardiology department is currently working on a cutaneous patch that enables continuous medication of different haemodynamic parameters, a system that can help to follow up patients more closely and anticipate the disease progression.
The department also leads another project in which a toothbrush enables us, daily, to measure vital signs and various biomarkers in the saliva. Wearable technology enables us to remotely follow up different key parameters early, to detect any worsening of a given pathology. Therefore, we can anticipate and plan our actions to fight the disease, initiate early treatment, avoid hospitalisation and reduce healthcare costs.
Profile:
Cardiologist David Del Val MD is currently completing his fellowship in haemodynamics and interventional cardiology at Ramón y Cajal University Hospital in Madrid, Spain. Having gained his medical degree from Madrid Autonomous University his residency in cardiology was at Ramón y Cajal Hospital. Later, at Alcalá University, he specialised in scientific investigation methodology.