Innovative digital tools designed to boost productivity
The new generation of RIS/PACS Carestream Health presented at RSNA 2008, will offer advanced tools and features to streamline the delivery of imaging services and boost productivity for IT staff, radiologists and other clinicians.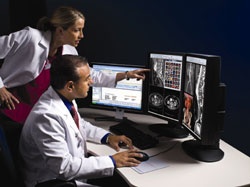 "Our commitment to helping healthcare providers improve the quality—and reduce the cost—of patient care has generated new and enhanced healthcare IT offerings that few competitors can match," said Diana L. Nole, President, Digital Medical Solutions, Carestream Health. "The innovative features and functionality of our newest RIS/PACS platform are designed to meet the needs of healthcare organizations including single-site hospitals and imaging centers, multi-site networks and large regional healthcare systems."
The company's new Web-based CARESTREAM RIS is Microsoft® .NET connected to offer tremendous flexibility and scalability in a thin-client solution. This new platform will:
• Improve patient satisfaction with a web portal that enables on-line scheduling within parameters set by healthcare providers
• Allow greater collaboration among clinicians and other personnel through an advanced suite of tools
• Boost user productivity with basic and advanced screen commands that reduce training time for new users and boost efficiency for experienced users
• Display graphic commands intuitively and adapt content according to each individual's requirements, while also enabling users to personalize their interface to further enhance productivity
Carestream Health's RIS will equip healthcare facilities to make real-time changes that tailor workflow to address their specific needs. These changes will be preserved during future upgrades to eliminate the cost of vendor-supplied customized code, which is time-consuming and often needs to be redone with each upgrade.
Enhancements Can Improve Productivity, Communication
Unique new scheduling capabilities will further improve radiology workflow and reduce the need for rescheduling:
• A new feature will enable users to view the availability of all clinical staff required when scheduling an exam (radiologist, technologist and/or nurse)
• A one-step tool will allow entry of an exam order at the same time an exam and appointment are scheduled. The RIS also will support patient scheduling at multiple locations
• An optional web portal will equip patients to change appointments to improve patient satisfaction while maximizing staff efficiency
• Integration with IBM's Lotus® Sametime® technology will allow instant communication between staff members so radiologists can ask other staffers to address questions that may help in forming a diagnosis.
Since this platform is Microsoft .NET connected, its thin-client concept will simplify system management, while also enabling full Windows functionality at each workstation. Updates can be automatically downloaded and installed across a single facility or a large multi-site enterprise. This architecture will enable the same features to be made available to any authorized user whether they are using the Internet or a network to access the system.
The new RIS will help improve turnaround time for reporting in several ways: Embedded voice recognition will allow radiologists to use voice control for some or all commands (while supporting keyboard and mouse control), while automated workload balancing and exam allocation based on user preferences can make more efficient use of radiologist resources. For example, exams can be routed to a secondary reading service when unread exams reach a certain threshold. The system also can distribute specified exams to specialists for reading if desired.
The .NET connection and new platform design will allow IT staffs to easily and affordably add hardware for much greater system scalability. Users can install and run the RIS client from a URL and software upgrades are automatically downloaded and installed to reduce maintenance needs.
Carestream Health's RIS has always offered excellent integration with other systems and that advantage is preserved in this new platform.
New PACS Features Speed Reading of Complex Exams
The company's newest version of CARESTREAM PACS will deliver significantly enhanced reading tools that can help speed exam interpretation and reporting, particularly for complex exams where data sets need to be compared. Advanced 3-D applications are embedded as part of Carestream Health's commitment to incorporating specialized modality reading capabilities within its PACS platform for a more efficient workflow.

More on the subject:
More on companies: