Henry Schein opens new logistics center
On January 29, 2016, Henry Schein will officially inaugurate its new warehouse and logistics center in Heppenheim. The modern, 10.5 meter tall building with 18,000 square meters of floor space stands on a 3.1 hectare property located in Heppenheim's industrial park 'Tiergartenstrasse'. The warehouse team has meanwhile moved from the old logistics center in Weinheim to the new facility.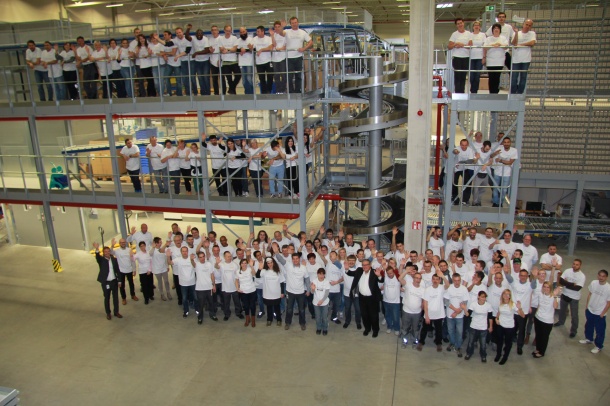 "We had long searched for a suitable property in this area to build a modern logistics center that would hold our extensive assortment and meet increased requirements. We already have a highly modern logistics center in Gallin, and now have a second one here," said Axel Pfitzenreiter, Vice President, Global Supply Chain - Europe. "Special thanks go to our team members who have worked hard over the past months to make the difficult transition from our old warehouse to the new facility as smooth as possible while never losing focus on customers," Pfitzenreiter continued. "The City of Heppenheim, with its Mayor Rainer Burelbach, has accompanied us very well during the journey to our new location."
Since the first cut of the spade on September 11, 2014, 440 trucks rolled in to pour the concrete foundation. 100 tonnes of steel fiber were used, and four kilometers of electrical wires and cables installed beneath the floor plate. Altogether, 700 tonnes of steel went into the construction, and 60 kilometers of cabling were laid. The total space of 18,000 square meters is equivalent to three soccer fields. Interior fittings include the installation of several thousand sprinkler heads: 2,300 in the ceiling, 4,600 in the shelving system, and 121 sprinkler heads in the offices. The new warehouse can store 70,000 different items – far more than the European average. To match this, a 2.1 kilometer conveyor belt system has been installed to move the products.
The new logistics center is a strategic warehouse for Central Europe. Henry Schein customers in Germany, Austria, the Czech Republic, and the BeNeLux countries will be supplied from Heppenheim. The company employs around 100 people in Heppenheim. Biskupek-Klotz-Scheinert, a Darmstadt investors group, had contracted the construction company Goldbeck GmbH in 2014 with the construction of the new warehouse. Henry Schein is leasing the building and surrounding land from the investors group. "We are extremely pleased with our new logistics center. At the same time, we would like to thank the city of Weinheim for the many years of good collaboration," Axel Pfitzenreiter said.

Source: Henry Schein