Community
Giving digitization a head start in terms of trust
Digital transformation is in full swing. Yet digitization remains theoretical in healthcare and not just in Germany. Given the influx of new information technology contributions, the subject of health definitely needs to be reevaluated. As a driver and creator of digital transformation, HIMSS has made this task its mission. The HIMSS Communities play an essential role in this.

Report: Melanie Günther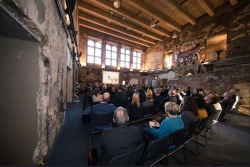 The HIMSS D-A-CH Community was created for this purpose at the end of January and is incorporated into a number of already existing Europe Communities, bringing together healthcare IT professionals from a number of pan-European regions. The communities promote knowledge exchange and offer their members a platform to discuss innovative cutting edge technologies and networking at the highest level.
The D-A-CH kickoff meeting took place in the lecture hall ruin at the Berlin Museum of Medical History at the Charité. Approximately 70 decision makers, companies, users and opinion makers participated.
Germany lags behind despite the eHealth Law
There are various reasons why the eHealth rocket is not taking off in Germany – such as the high level of technological complexity of systems, vague international guidelines or the strict data protection regulations. Yet regardless of the eHealth Law, the fact is that Germany's IT infrastructure is not where it should be.
Things look very different in Austria where the patient health record ELGA shows how the implementation of eHealth systems in healthcare should work. As a modern electronic information system, it makes access to health data easier for the authorized health service providers: attending physicians, hospitals, care facilities or pharmacies. Transparency is a top priority: patients are also able to view diagnostic findings and discharge letters via an online portal. Here they can also manage and limit third-party data access.
Another advantage is the comprehensive introduction of a Clinical Document Architecture (CDA). Illegible paper records and poor scans are therefore a thing of the past. The diagnostic findings landscape is shaped by standard structures that were also coordinated with the various departments.
Since ELGA is a public infrastructure, there is a legal obligation to use ELGA. Immunization and dental records, for example, are also meant to be incorporated in the future.
Doing versus talking
The fact that Germany is not the only country that lags behind is something Stefan Hunziker, CIO of the Regional Hospital of Lucerne, described. He says Switzerland is currently preparing for the Electronic Patient Records Act (ePDG). It is supposed to go into effect in 2017 and close the gap to the eHealth landscape. Until then, it's essential to solve processes and create documentation solutions. "A political process is a tedious affair," adds Hunziker.
During the meeting, Arno Elmer, Managing Director of Innovation Health Partners and a member of the HIMSS Europe Governing Council, put it in a nutshell:"The digitization is happening. Yet here in Germany, we are still a long way away from its implementation. We want eHealth 4.0 but currently only work with eHealth 0.8. Policy makers mustn't rest on their laurels. After all, the German eHealth Law took ten long years to take effect. Ultimately, it lacks practical implementation!"
Digitization is not just a question of information technology. It actually takes place inside people's minds. This is why it requires an interdisciplinary exchange which the HIMSS Communities provide. Now the goal is to initiate projects, even if they perhaps only progress at 80 percent capacity. As Claudia Dirks, Director D-A-CH, states so fittingly: "The motto of this Community is 'Action'!"
The next HIMSS D-A-CH Community meeting will take place in April at the conhIT in Berlin. Several representatives will also be in Las Vegas at the HIMSS Conference.
For more information on the HIMSS D-A-CH Community, please visit: www.himssdachcommunity.org