Hybrid Imaging
Fusing PET-MRI – a winning combination
Someone once described the fusion of positron emission tomography (PET) and magnetic resonance imaging (MRI) as a great technology looking for an application.

Report: John Brosky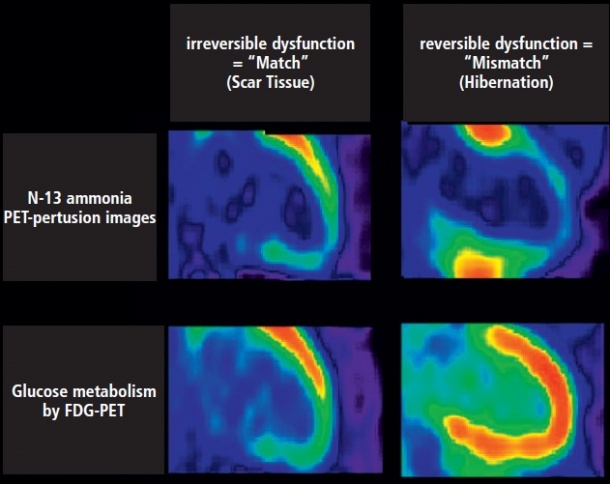 There is some disappointment in other medical fields, acknowledged Thomas Schindler MD, Director of Cardiovascular Nuclear Medicine at Johns Hopkins University Medical School in Baltimore. Initial PET-MRI failed to show superiority against PET fused with computed tomography (CT), the standard in that field to detect some cancer and associated metastatic disease.
Yet, PET-MRI may be a winning combination and gold standard for evaluating various heart diseases and disorders, including ischaemic and hypertrophic obstructive cardiomyopathy, cardiac sarcoid involvement, myocarditis, and so on. 'The indications to apply both modalities are well established. The question now is determining if there are additional clinical benefits among HF patients where we apply a fusion of MRI-PET to acquire more clinical information, a comprehensive overview of structure and function. Now we need to show the added diagnostic and clinical benefit of doing so.'
At this year's congress of the European Society of Cardiology (ESC) in September, Prof. Schindler focused on the potential role of PET-MRI in the assessment of myocardial viability in ischaemic heart failure patients during a Spotlight Symposium on multimodality imaging. 'In the cardiovascular domain, we are now able to vision both anatomy and function,' he said, adding that both types of information are needed to make a decision as to whether it is worth doing the revascularisation, or whether it is better to pursue conservative medical treatment.
The targeted patient population is characterised by severe heart failure with a left-ventricular ejection fraction of less than 35%, regional wall motion abnormality, such as akinesis or dyskinesis subtended to an occluded or highly stenosed vessels. This is commonly the case when a patient with acute myocardial infarction missed the six-hour window for revascularisation by percutaneous coronary intervention (PCI), or because the diagnosis was missed, or because a patient experienced a silent infarction.
'The question for the interventional cardiologists becomes whether it is worthwhile to re-open the chronically occluded vessel in view, to restore coronary flow to potential viable or "hibernating" myocardium, which may then recover contractile function translating into an improvement in symptoms, physical capacity and prognostic outcome. PET/CT with the radiotracer FDG is highly sensitive in the detection of residual myocardial viability in areas of infarction, while MRI with delayed-imaging of gadolinium trapping in the myocardium can reliably detect old scar tissue and/or fibrosis with specific T1-weighted sequences. In this respect, cardiac MRI provides more specific information on potential recovery of heart function after coronary revascularisation.
There are heart centres using primarily PET, and centres that use MRI, he said, and each modality comes with a certain bias. 'Combining the two modalities creates the potential for more objective information for the decision-making process and can lead to a more highly individualised therapy decision for interventional and medical treatment options in patients with ischemic cardiomyopathy.'
He hopes his presentation gathered both MRI experts who would like to appreciate the value of PET and, vice versa, PET experts who wish to appreciate the value of MRI as 'these two experts will need each other in the future as the use of the fused modalities becomes established.
Currently there are precious few groups who have started clinical research in this domain, and the only published works remain feasibility studies and do not provide clinical outcome data, that would allow more definite conclusions. Functional and clinical outcome data are underway, but it will take a couple more years before publication,' he explained.
The lack of this clinical evidence means the diagnostic procedure is not yet embraced in society recommendations and guidelines, which creates yet another significant barrier to adoption, which is a resistance to reimbursement among insurers.
When you try to convince insurers to pay for two modalities for one exam, of course they say that there is no outcome data to justify he exam. This is one of the reasons that PET-MRI has been slow to start, because centres with this capability have not been able to apply it in a wider range of applications.
Schindler said he had been successful winning agreement for reimbursement on a case-by-case basis by patiently building credibility with insurers, emphasising the potential for an improved outcome for the patient in the event that revascularisation is justified, and emphasising the cost savings of up to €10,000 to €25,000 when interventional or surgical revascularisation procedures are not needed.
'This is not a screening method,' he said, 'and I speak every day with colleagues in cardiology or internal medicine to explain why the examiis justified for some patients but not others, and then with insurers to justify the value of the exam against expense.
'PET-MRI is likely to become the gold standard in determining the potential in recovery of cardiac function in ischaemic jeopardised but viable myocardium in heart failure patients. However, clinical outcome data are needed to prove that image-guided and individualised vascular medicine with PET-MRI technology leads to an improved clinical outcome and prognosis in high risk patients.'
Profile:
Professor Thomas Hellmut Schindler MD is Director of Cardiovascular Nuclear Medicine and Associate Professor PER at Johns Hopkins University Medical School, Baltimore, USA. He has an international reputation in the field of Cardiovascular Imaging with focus on PET. His authorship of over 71 peer review publications shows an impact factor exceeding 287. Professional memberships include the ESC (European Society of Cardiology), and on the cardiovascular committee of the European and American Society of Nuclear Medicine and Molecular Imaging.