High-resolution CT
Frost & Sullivan awards Carestream top Honors for OnSight 3D Extremity System
Based on its recent analysis of the CT market for extremity imaging, Frost & Sullivan recognizes Carestream Health with the 2016 North American Frost & Sullivan Award for New Product Innovation. Carestream's FDA-approved cone beam computerized tomography (CBCT) device, the OnSight 3D Extremity System, is proving to be a game-changer with its ergonomic design and unparalleled features. Compared to multi-detector computerized tomography (MDCT) systems, this device delivers lower dosage and provides the ability to capture weight-bearing images.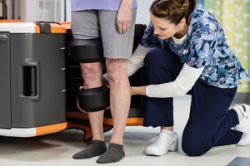 Carestream's OnSight 3D Extremity System's intuitive design is distinct from conventional doughnut-shaped CT scanners. It consists of a wide door opening that provides easy, step-in patient access. The large imaging bore accommodates heavier patients, while enabling a wide field-of-view image capture. To facilitate convenient equipment-positioning, it has a dual-side positioning joystick. On the top of the device, two detachable patient-support handles enhance safety and comfort. Finally, a monitor attached to the system displays the patient's demographic details and the imaging status for individualized diagnoses of extremities.
"Carestream's OnSight 3D Extremity System utilizes advanced interactive reconstruction techniques and generates exceptional image quality in both bone and soft tissue.," said Frost & Sullivan Research Analyst Karan Verma. "Similarly, weight-bearing applications are better evaluated using this system. By delivering volumetric reconstruction that has isotropic spatial resolution in all three directions, it bridges the gap between the market and customer needs."
The system produces 3-D images of high diagnostic value at the point-of-care to evaluate subtle or occult fractures and their healing. The device can improve the visibility of patient anatomy even in the presence of metal implants, which are a common cause of noise in CT images. It improves workflow and productivity due to its ability to perform both 2-D and 3-D scans on the same device.
Carestream's device expedites patient scans as it has a fast equipment setup option with pre-programmed auto-positions. The system will typically not require a large shielded room or specialized electrical service, enhancing the ease and cost effectiveness of the installation.
For the OnSight 3D Extremity System, the company has a dedicated team that provides technical assistance to medical professionals in hospitals and private clinics. eXceed, a corporate initiative from Carestream, is intended to create a customer-centric culture; for instance, it collects and analyzes data regarding customers' experiences to identify and address the system's deficiencies.
Carestream's medical and dental imaging systems have enjoyed considerable success in a wide range of applications such as clinical imaging, dental practices, non-destructive testing, oncology, orthopedics, otolaryngology, veterinary medicine, and women's healthcare. It operates in more than 170 countries and has close to 800 patents for medical and dental imaging, and healthcare IT systems.
For exceeding customer expectations with its outstanding product and services, Frost & Sullivan is pleased to present Carestream with the 2016 North American Frost & Sullivan Award for New Product Innovation.
Each year, Frost & Sullivan presents this award to the company that has developed an innovative element in a product by leverage leading-edge technologies. The award recognizes the value added features/benefits of the product and the increased ROI it offers customers, which in turn increases customer acquisition and overall market penetration potential.
Frost & Sullivan Best Practices awards recognize companies in a variety of regional and global markets for demonstrating outstanding achievement and superior performance in areas such as leadership, technological innovation, customer service, and strategic product development. Industry analysts compare market participants and measure performance through in-depth interviews, analysis, and extensive secondary research to identify best practices in the industry.

Source: Carestream
More on the subject:
More on companies: