From East to West - HIFU for tumour therapy
Radiofrequency ablation (RFA) and microwave ablation repeatedly compare well with surgery in the treatment of primary and secondary liver, kidney and lung tumours and the palliative care of bone cancer. Thus oncologists are increasingly attracted to using bloodless, non-invasive treatment methods. High Intensity Focused Ultrasound (HIFU), primarily used in myoma therapy, is leading medical scientists to hope for its use to treat malignant tumours.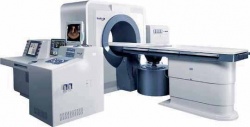 With HIFU, ultrasound waves are focused on a target region and temperatures within the target point rapidly rise (< 1-2 sec) from 60 to 80°C. The tumour tissue is cooked, yet the surrounding or overlying tissues are not damaged. Indications for HIFU may be all lesions that ultrasound waves can reach, and in organs not containing gases (liver, kidneys, pancreas, bone, breast, uterus, ENT area, prostate, muscles, adipose tissue).
Clinical study
So far, the biggest clinical experience in HIFU has been in the Far East. In 1997, at Chongqing Medical University, China, Professor Lian Zhang first used the JC Haifu Focused Ultrasound Tumour Therapeutic System (Chongqing Haifu Ltd.). 'In the beginning,' he explained during a European Hospital interview, 'it was difficult to enrol patients for our clinical trials because only patients with no other treatment option, or with advanced stage tumours, could be considered -- even though at that time HIFU showed encouraging results. From 1999-2004 we treated 35 cancer patients who were not suited to surgery. The follow-up-results after five years was a survival rate of 71%, which is close to other techniques, such as RFA or surgical resection. I know osteosarcoma or breast cancer patients who were treated with HIFU ten years ago and who are still tumour-free. That's why we switched from a palliative to a curative concept of treating tumours, also in the early stages.'
Three years ago, interventional radiologist Professor Franco Orsi, at the European Institute of Oncology in Milan, Italy, visited Prof. Zhang at the Chongqing centre and was highly sceptical about HIFU. 'Then he began to believe,' Prof. Zhang recalled with a smile. Back in Milan, Prof. Orsi began clinical studies immediately, investigating three indications for HIFU in three trial prongs: pancreas, breast and bone palliation.
Then, organisational problems arose. 'HIFU therapy was so effective in breast cancer that some patients refused additional surgical treatment. The MR control showed that they were tumour-free after HIFU and they didn't wanted to be treated twice. This brought us trouble from the tumour board's ethical committee because, after current standards, surgical tumour resection is obligatory.'
MRgFUS or USgFUS – which is best?
The debate is ongoing as to whether Magnetic Resonance-guided Focused Ultrasound (MRgFUS) and Ultrasound-guided Focused Ultrasound (USgFUS) are competitors. MRI is undoubtedly superior to ultrasound in image quality and precision, and also enables thermal mapping of tissue, making ablation safer. Nonetheless, the practical management during a procedure is better with USgFUS. There are no hours of patient positioning in the magnet, no lengthy job training for the user – perhaps one reason why radiologists reject it. USgFUS is a user-friendly technique that can be performed by different consultants from different disciplines.
The debate, Prof. Zhang agrees, is less about technical superiority and more to do with personal preferences: 'In the USA and Europe radiologists have been trained with MRI, so they like MR better. It's also considered more sophisticated technology than ultrasound, so everyone wants to work with it. I work with both, so I know there are in fact clear indications about which is better in which case. In the liver, for example, ultrasound guidance is always better because, first it's difficult to position the patient in the MR, and secondly the liver moves with breathing.'
Prof. Orsi adds another crucial difference: 'While the MRgFUS transducer works with phased array technology, the USgFUS uses a one element transducer. The difference is that, with the MR transducer, you can change the focal point position, which makes the procedure more controllable, but the focal field is not homogenous and needs longer to heat up properly. In USgFUS with very high energy levels in only one transducer it's much faster; the energy delivered is so high that cavitation effect can be even obtained.'
This may explain why, in China, tumour size, e.g. in myoma therapy, is not a limitation to HIFU. Prof. Zhang's colleague, Prof. Wang Wei, at the China Military General Hospital, Beijing, has treated uterine fibroids up to 20 cm in a two-hour session, while in European centres where MRgFUS is preferred, uterine fibroids are mostly treated up to 8 cm – without taking into account that tumours are commonly diagnosed earlier in Western countries.