First wireless DR detector
Carestream Health's engineers created the first wireless DR detector which is not bigger than a standard cassette and can therefore withstand the challenging environment of a modern x-ray department. The rugged detector, case, and internal components are made to produce DR images of high quality under real-life x-ray department conditions.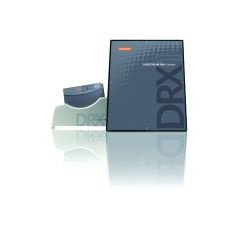 "This innovative wireless detector presents an extremely attractive option for facilities that want to improve productivity and image quality in existing film or CR rooms, but do not have the budget for equipment replacement," said Diana L. Nole, President, Digital Medical Solutions, Carestream Health. The digital radiography (DR) detector can be used with existing wall stand or table-based Buckys. The CARESTREAM DRX-1 System, currently a work in progress, is expected to be available in many parts of the world during the first quarter of 2009.
The CARESTREAM DRX-1 System incorporates a console and a wireless 14 x 17 inch (35 x 43 cm) cassette-size digital radiography (DR) detector that provides a rapid, affordable conversion for users of radiographic film or computed radiography systems. It requires no modifications to existing analog equipment—which results in very low installation costs—and a healthcare facility can utilize one detector for nearly all types of exams where a traditional cassette would be used. The DRX-1 system delivers high-quality preview images in under five seconds, which significantly improves productivity, even for users of computed radiography (CR) systems, the company declares.
"No modifications to existing x-ray systems are needed and facilities can continue to use the Bucky with CR or film-based cassettes if desired. In addition, the wireless functionality of the DRX-1 can improve efficiency by allowing a much more flexible workflow to meet the specialized needs of each individual facility," explains Diana L. Nole.
Because this DR detector is a wireless cassette, it provides flexible positioning that enhances both efficiency and patient comfort. The detector can be used wherever it is needed—in the wall stand Bucky, table Bucky or for tabletop shots and other difficult views.
With a weight of 8.5 pounds, the detector is up to 30 percent lighter and up to 50 percent smaller than other portable detectors. Its compact size and light weight further enhance convenience and throughput for radiology professionals.
The DRX-1 system—suitable for general radiology, trauma, orthopaedics and virtually all other x-ray exams—incorporates the same innovative software and image processing capability as Carestream Health's KODAK DirectView CR and DR systems and, therefore, will deliver image quality and workflow consistent with these systems.
A console is included with the detector to assist with image capture, preparing preview images, image processing and full-resolution display. Images can be transmitted as DICOM files to a PACS or storage device.
The DR detector can be used with standard off-the-shelf grid holders and grids for tabletop use.
For more information about Carestream Health visit
www.carestreamhealth.com
More on the subject:
More on companies: