Parkinson's Disease
First patients treated with focused ultrasound
Researchers at the University of Maryland and the University of Virginia have performed the first focused ultrasound treatments in the United States for dyskinesia associated with Parkinson's disease.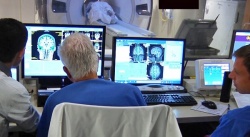 These treatments are part of international pilot studies of 40 patients assessing the feasibility, safety and preliminary efficacy of MR-guided focused ultrasound pallidotomy for dyskinesia that occurs with Parkinson's disease.
Investigators are using magnetic resonance imaging (MR) to guide ultrasound waves through the intact skin and skull to reach the globus pallidus, a structure deep in the brain. If successful, focused ultrasound could offer an alternative approach for certain patients with Parkinson's disease who have failed medical therapy or become disabled from medication-induced dyskinesia. To date, seven patients in Korea and one patient in Canada have been treated in studies.
"We are excited to offer our patients a new, non-invasive therapy to control their Parkinson's symptoms," said Howard M. Eisenberg, MD, Chair of Neurosurgery at the University of Maryland School of Medicine. "The neurology community has made significant strides in helping patients with Parkinson's over the years; utilization of MR-guided focused ultrasound could help limit the life-altering side effects like dyskinesia to make the disease more manageable and less debilitating."
"This opens up a new frontier for focused ultrasound therapy, building upon previous research which suggests that focused ultrasound can alleviate essential tremor," said Jeff Elias, MD, Professor of Neurological Surgery at the University of Virginia. Dr. Elias led the Focused Ultrasound Foundation-funded pilot trial which investigated focused ultrasound for essential tremor (ET). The ET study results were published in the New England Journal of Medicine, and led to a larger pivotal trial, which was recently completed. In addition, enrollment has just completed in a pilot study assessing focused ultrasound for tremor-dominant Parkinson's disease.
The Parkinson's dyskinesia studies are being conducted using the ExAblate Neuro system developed by Insightec. "This is another major achievement in the development of focused ultrasound, which is under investigation to provide less invasive relief to patients suffering from movement disorders. We congratulate the teams in Maryland and Virginia for their pioneering spirit and support of the technology," said Eyal Zadicario, Vice President for R&D and Director of Insightec's Brain Program.
Funding for the Parkinson's dyskinesia studies has been provided by the Focused Ultrasound Foundation and The Michael J. Fox Foundation for Parkinson's Research, in collaboration with Insightec as regulatory sponsor. Eligible patients will include those whose medication has failed to satisfactorily control dyskinesia, who are not candidates for surgery or who choose not to undergo surgery. If the trials are successful, a large study is planned in advance of seeking FDA approval and reimbursement of focused ultrasound to treat Parkinson's disease.
"This milestone marks an important step forward in the development of focused ultrasound as an alternative for Parkinson's and other movement disorders as well as brain tumors," said Foundation Chairman Neal F. Kassell. "This progress reflects the work of many innovative minds and the collaboration of several organizations committed to advancing paradigm-shifting solutions."

Source: Focused Ultrasound Foundation