First clinical use of new Z Align tool
The new Z Align, a function of the Callisto eye, which is part of the Zeiss Toric Solution for implantation of toric IOLs in patients with astigmatism, is set for first clinical use during surgery at the Heppenheim Eye Clinic.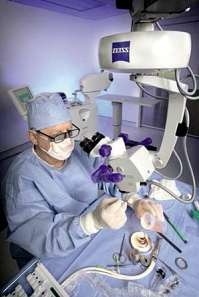 'Thanks to Z Align, in future I'll be able to supply toric IOLs to my patients with a high degree of accuracy, efficiency and safety. It will enable my team and me to follow an optimum treatment sequence in everyday practice,' explained Dr Wolff, Heppenheim Eye Clinic.
Carl Zeiss explained: 'Z Align is an innovation for the simple video-supported alignment of toric IOLs. Simple touch screen operation enables the surgeon to mark the necessary axes and accurately align the IOLs intra-operatively by video overlay. This is where Z Align clearly differs from conventional methods and creates optimum conditions for a good refractive result. In addition, videos of the intra-operative procedure are automatically recorded for export. The function can be used in conjunction with almost any video camera used in the operating theatre. Furthermore, the system can easily be expanded to an OP planning system.'
The Zeiss Toric Solution
'Starting with pre-operative biometry, the IOLMaster as a gold standard assures high-precision results with completely contactless measurement. Subsequent to the biometric measurements, Zeiss toric IOLs can be calculated quite simply with the new Z Calc online calculator. The calculated, case-related results can be adjusted to the values for sphere and cylinder for outstanding refractive results. During the operation surgical microscopes (e.g. OPMI Lumera family) support the implantation of toric IOLs, such as AT LISA toric by displaying the most minute details and a brilliant Red Reflex. This intra-ocular lens is the only MICS IOL that can simultaneously correct sphere, cylinder and presbyopia. Finally, the innovative, video-supported Z Align tool, a function of Callisto Eye, supports the surgeon in ensuring exact positioning of the toric IOL with an integral eye tracking system.'
Other innovations from Carl Zeiss were launched recently at the two major ophthalmological congresses ESCRS and AAO.
• Zeiss Ophthalmic Data Management Solution – a fully integrated platform for data management, which stores all diagnostic data to guarantee a paperless workflow in diagnosis and surgery.
• Zeiss Refractive Laser Solution – a comprehensive application spectrum with integral data flow and patient treatment.
'The new devices for diagnosis and surgery are geared to improving productivity, workflow and clinical results – three critical factors in today's health care services,' Zeiss points out.