Exclusive dry long film for digital CR/DR
XL, an exclusive, dry, long film for use in the Horizon XL printer - currently the only digital long film imager on the market - promises to not only to reduce costs, save space, and completely eliminate wet film processing needs, but also to enhance orthopaedic studies of paediatric and adult spines, scoliosis and long bone hip-to-ankle.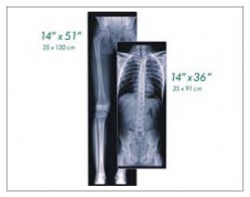 Launched by Codonics, the Ohio-based manufacturer of dry diagnostic medical imagers, the long film comes in two sizes: 14"x36" and 14"x51", enabling 'true size' images to be printed on one continuous film (and to be folded to 14"x17").

'The XL offers true-size imaging up to 51" in length, so that an X-ray is exactly what is printed on a single piece of film, ensuring a surgeon's measurements during templating. Yet, Horizon takes up just two feet of counter space and weighs only 66 pounds (29.94 kilograms),' the manufacturer explained. 'Traditional, wet long film capabilities are completely eliminated as the market transitions from analogue to digital,' said Hank Adams MD. 'Codonics provides the only means of printing long film in the digital age of CR/DR.'

Horizon's multiple media printing capabilities bring alternative solutions to printing not only long film, but also large format film and several other film sizes, as well as edge-to-edge colour paper and greyscale paper. 'It's the perfect imaging solution, using Codonics film for true-size, DirectVista Paper for surgical planning, referral copy and patient medical files and for its colour capability for arthroscopy applications plus 3D colour CT,' the firm added.

The XL received FDA approval in March. It is currently in 'Beta testing' at the Mayo Clinic and HSS Hospital, New York.