The IT revolution
To meet an ever expanding demand for faster, more efficient healthcare delivery, and therefore better IT solutions, companies are in hot competition internationally. In an interview with Daniela Zimmermann, Dr Andrea Fiumicelli, Head of IT at Agfa HealthCare, discussed his company's aims and position in this vibrant healthcare market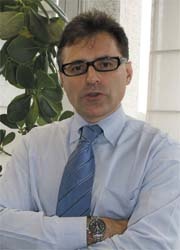 Two healthcare issues drive Agfa HealthCare's strategies, Dr Andrea Fiumicelli explained: demographic evolution and medical evolution. In terms of the first, he pointed to the estimated population increase to nine billion people by 2050, a figure that includes the increased percentage of over 60-year-olds from 10-20% worldwide, bringing with it increased workload and cost.
'Because healthcare spending for the aged is four or five times that for 10 to 60 years old, this is a major issue for society worldwide,' he added. Demographics are driving the healthcare business, and as populations boom, the demand for healthcare will explode. Our challenge is to meet this increased demand with ever evolving technologies, to the benefit of patients and clinicians alike, delivering solutions that boost overall healthcare effectiveness and efficiency and thereby help curb cost.'
In terms of medical evolution, Dr Fiumicelli pointed out: 'Not only has and will the volume of patients requiring treatment increase but, as medical science evolves, it brings with it increased complexities. Although 15-20 years ago doctors, and even nurses, were rather specialised in orthopaedics, general medicine, intensive care, patient cases as well as the revolution in drugs, this is becoming increasingly more complex. To make the right diagnosis and provide the right treatment a multi-disciplinary approach is necessary; medical teams today must collect several pieces of information from the lab and many other departments to provide ever improving diagnostic results. Having said that, data sources are larger and each data source contains a bigger amount of data. So the fact that medicine is becoming really multi-disciplinary and is challenged to manage an enormous amount of data, make these the two core issues that drive our business strategy.'
With those in mind, he focused on the role of IT in future healthcare, and referred to Agfa HealthCare's co-assets, '… the first is its 100-year historical asset built around imaging – the technologies, intellectual property, you name it – to record images on film, with printers, on computer radiography plate, any technology. The second asset is related to IT applications, and I stress the word applications: We have the people, the know-how, technologies and intellectual property to provide applications, solutions and services to
automate clinical workflow and to administer everything, from patient admission to transfer and billing. In the past 15 years we have also learned to be independent and to connect to the thousands of IT solutions, most of them legacy systems that do not comply with standards because they've been around for 10-15 years".
DZ: Talking about connectivity, no company has yet produced the complete electronic patient record (EPR) – is this part of your strategy?
AF: 'Yes. EPR solutions are a fundamental base for dealing with both the demographic and medical evolutions of the future. They provide an answer to increased data management and cross-border information sharing, and help reduce often complex information gathering procedures faced by many clinicians.
Practically, the EPR will make more and more sense over time, once the most relevant information can be accessed on one screen. Technically there are three major issues: the capability to collect meaningful data, provide data integrity and maintain data security. The first layer is to get the information; second to structure that, meaning a big image manager, master patient index, to structure data from the lab, radiology, pathology, nuclear medicine etc. then the rendering – i.e. sorting it all in a useful way. The user doesn't care about having 500 gigabytes of data; he wants basics, in one second, on one screen, in a simple way. Finally, the information must be managed securely.
'In Berlin, for example, we have implemented all of this, so that the Vivantes hospitals can access the patient record on one screen – and so can a nurse or general practitioner (GP), depending on security status. The next step is for GPs in Berlin to access information about chronic disease management, and because there's a single data repository, we can easily provide that data to GPs, who can return information to the hospital for long-term delivery. So the EPR is a reality. Frankly, with a little bit of pride, Agfa HealthCare has delivered the integrated EPR; we have integrated the different multi-discipline data sources discussed earlier. This is a consequence of our clear focus. We have two businesses in healthcare, imaging and IT, in which we want to become the healthcare leader by driving the integration of both worlds.'
Do you mean other firms have too many focuses?
'Our ability to combine imaging and IT makes us different. We have the biggest market share for hospital information systems. We have 1,000-plus laboratory systems in France; a third of French public hospitals are using hospital information systems from us, one third uses IT for billing. Also, in Germany, Austria and Switzerland we are the market leader. At the same time we are a major PACS, clinical applications, Computed Radiography and printing player, meeting ever demanding imaging needs and the ability to integrate these into one effective IT solution.
Can it be said that PACS is a core part of your IT strategy and success?
'Yes, if we look at the bringing together of PACS and the other IT areas in German speaking countries for example, in terms of growth, our PACS business is booming. Our ability to combine PACS and IT in one solution means we use less hardware, so there's less cost for customers. We provide far more productive accessibility of data as a result. We can integrate the laboratory and radiology data in one shot, for example. The benefit for the user is huge.'
Although your film competitors work in a specific field, are they still competitors in IT?
That depends, in every market segment we are competing with different companies – in software –, such as Siemens and GE. In another family of competitors, we compete with firms such as Meditech, McKesson, and iSoft. We also compete with national-based companies, which don't have systems outside their own countries. Each market might have at least 20 or 30 IT application companies working only in data. We compete with them as much as we do with the larger players. Our competitive landscape has changed dramatically since the company decided to become a leader in the healthcare IT field. Traditional film markets are dominated by only a few players, whereas healthcare IT by many thousands.'
Does the buying of iSoft by IBA, the Australian company, affect Agfa HealthCare?
'We are of course continuously monitoring our competitors. We compete with iSoft in England and definitely in Germany, where it started about 15 years ago and was the first to talk about integrating laboratory pathology.'
Let's talk about film.
Film is still important in healthcare and we sell a very significant volume. In the US and Western Europe film has declined and, on the horizon of five years, film will not disappear. There are some emerging economies, Latin America, Mexico, and some Asian countries where film demand is still increasing. So, as a worldwide player, film demand is still significant. However, we have executed our strategy very clearly: through IT – an important asset and we want to protect our value in this area. The film business is important for a company like us. The income is significant.'
Others also back up their IT business with film.
'Of course, but for us, the difference is the percentage we present in IT. We are not backing up our business with film, but are driving its transformation with it.'
Are you a partner with other providers of healthcare solutions?
We are partners with hardware companies because we are an IT applications company. We provide software and services to the healthcare market using hardware or some basic technologies like a database. That also means, in many cases, that we will ally ourselves with providers of the technologies and products we do not produce, to ensure we can deliver a complete package to our customers.
More on the subject:
More on companies: