Mammography
Evolving breast imaging with MARIA™
Breast cancer continues to be one of the biggest killers of women globally. Worldwide it is estimated that around 522,000 women died from breast cancer in 2012. This is despite the fact that if a cancer is detected at less than 1cm in size with no lymph involvement survival rates at 5 years are comparable with someone who has not had cancer.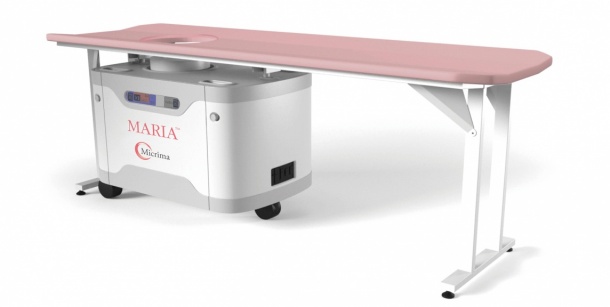 Micrima Limited (Bristol, UK) have developed a new modality for breast imaging, MARIA™, that helps to address the underlying issues that have led to the current situation. MARIA™ was unveiled earlier this year at the European Congress of Radiology in Vienna. The MARIA™ system uses radio-waves instead of ionizing radiation to identify lesions in breast tissue which means it can be used to scan women from a young age and as frequently as required as its harmless. The 3D system also requires no breast compression so is comfortable for patients.
Early results have shown it is particularly effective at detecting cancer in dense tissue. Dr Peter Bannister, Chief Technology Officer for Micrima, presented the latest data on cancer detection in dense tissue - a clinical evaluation and automatic labelling of lesions using radio frequency feature discrimination in the voice of EPOS section of the ECR meeting.
Multiple trials of the MARIA™ system have been carried out in the UK and new studies are due to commence in leading centers in mainland Europe and in the UK. Completed studies include over 400 women and have consistently demonstrated MARIA's superior ability to detect lesions in dense tissue compared to mammography, but also with comparable detection rates across all densities.
This game-changing technology offers a real option in breast imaging. Dr Pascal Baltzer of Arzt bei Medical University of Vienna and EUSOBI summarised the enthusiastic reception of a growing number of leading breast care clinicians across Europe. "I deem it appropriate for screening and possibly helpful in dense breasts where mammography is limited in its sensitivity." Click the link below to see the full interview:
To find out more please contact us on info@micrima.com or visit our website www.micrima.com
Source: Micrima
More on the subject:
More on companies: