European Union approval for Plex-ID
Abbott Laboratories has obtained European Union approval to market its rapid, Plex-ID instrument, along with three assays for use on the system.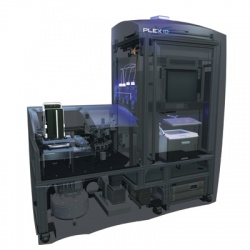 Plex-ID, which is based on molecular diagnostic technologies, addresses a need for rapid detection and identification of a broad range of microbes that cause infections in patients. It provides results in less than eight hours instead of the days or even weeks required for traditional culture methods, Abbott said.
"Ensuring that patients receive the most appropriate antimicrobial therapy as rapidly as possible has the potential to reduce inappropriate antibiotic prescribing, and help to reduce or slow the development of resistant bacterial strains," said Dr. Jacques Schrenzel, head of the Bacteriological Laboratory, University Hospital Geneva in Geneva, Switzerland.
"Plex-ID is the only available diagnostic technology that is capable of identifying a wide range of bacteria, viruses, fungi and certain parasites in hours," said Murthy Simhambhatla, head of Abbott's Ibis Biosciences business. "The introduction of the Plex-ID provides physicians and laboratorians a revolutionary new platform for the rapid etiologic identification of a wide variety of pathogens in patients."
Abbott said the system can detect and identify nearly 400 species of bacteria, and also can detect the presence of genetic markers that determine bacterial resistance to certain antibiotics. In addition, the test can identify and classify species of Candida, a fungus that is an increasingly common cause of serious systemic infections. The assay performs this analysis on blood culture positive specimens.
Ibis Biosciences was acquired by Abbott in January 2009 with the focus to deliver an innovative approach to the detection and characterization of a broad array of microorganisms and to contribute to Abbott's expanding role in molecular testing.