Eppendorf Centrifuge 5424 R wins red dot award
Eppendorf AG celebrates success in a leading global design competition which attracted 4,433 entries from 1,700 companies in over 60 nations. Centrifuge 5424 R, a premium 24-place microcentrifuge, has been honoured for design excellence in the life science and medicine category of 'red dot award: product design 2011'.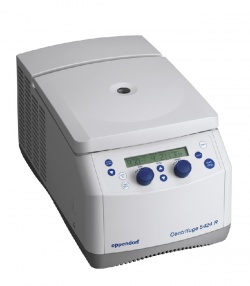 The exceptionally quiet Centrifuge 5424 R is a refrigerated 24-place microcentrifuge equipped with an array of innovative usability and design features. With its very compact size, low access height and near-silent operation – even without the rotor lid – Centrifuge 5424 R fits perfectly into molecular and biological research laboratories. Four different rotors, including a Kit rotor™ to avoid tearing of spin columns with open tube lids, ensure versatility, while users can choose between rotary control knobs or a keypad. With the help of the 'FastTemp function' a quick pre-cooling of the centrifuge from 21 ºC to 4 ºC in only 8 minutes is possible. In addition, a temperature range of –10 ºC to +40 ºC and maximum speed of 21,130 x g (15,000 rpm) suit applications including DNA / RNA handling and pelleting of cells, membranes and particles (e.g. beads).
Rounding up the striking benefits of the Centrifuge 5424 R is the fact that it has been developed to meet latest emission and ecological requirements – thus setting new standards.
Judged by a panel of 36 internationally renowned design experts, 'red dot award: product design 2011' culminates in a gala dinner to honour the winners on 4 July at the Aalto-Theater, Essen, Germany. Along with thousands of other submitted products, Eppendorf's Centrifuge 5424 R has been evaluated according to strict adjudication criteria, which include degree of innovation, functionality, ergonomics, ecological compatibility, and durability.
Eppendorf has already won several design awards for its innovative, top-quality lab products in the past. The red dot product design award 2011 continues this tradition.

More on the subject:
More on companies: