Enthused crowds gather for formal opening of ECR
The Opening Ceremony on Thursday evening, enhanced by music from Spain, drew an enormous crowd.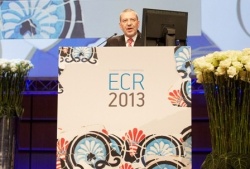 In his speech, ESR President Prof. Gabriel P. Krestin reminded the ECR community of the founding fathers of the Congress and of the Society, the "single house" of radiology in Europe which today is "the largest association of radiologists worldwide". ESR will continue to advance knowledge in the discipline, and to further increase visibility of the role of radiologists in the context of their clinical peers in an era of personalized medicine.
ECR President Prof. José Ignacio Bilbao extended a warm welcome to representatives from 2013 partner countries Spain, South Africa, and Chile, and to the clinical partners fostering the multidisciplinary approach.
"Honorary Membership is the highest distinction we bestow" on radiologists outside Europe, explained Prof. Krestin. For outstanding achievements, this prestigious award was presented to Prof. George Simpson Bissett III from Houston/Texas, to Prof. Tarek A. El-Diasty from Mansoura in Egypt, and posthumously to Prof. Gary Glazer from Stanford/California. – In his Opening Lecture, Prof. Jesús Prieto from Pamplona/Spain outlined the promises and facts of liver-directed gene therapy.