Enhancing the patient experience
When it comes to hospital choice, patients no longer rely on their doctor's advice alone. Improved health literacy and a growing awareness of potential risks (e.g. hospital acquired infections, medical errors) are encouraging patients to choose carefully by considering the quality of care delivered, patient satisfaction scores, patient safety and comfort in general.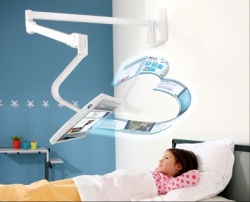 Meeting patient expectations
The view that the overall patient experience is strongly linked to the level of satisfaction means patient expectations are rising rapidly. Add to this the growing influence of social media and other online tools used to influence a patient's choice of hospital, and it's clear that healthcare providers are exposed to greater levels of scrutiny and under pressure to deliver a better performance.
Although most healthcare providers do not shy away from their responsibility to improve the patient experience, they are facing enormous challenges due to severe cost cuts and a growing shortage of skilled medical professionals. These challenges are the driving force behind efforts to improve the efficiency and delivery of care – and, hence, the patient experience.
Interactive patient care
To fully address these key priorities in healthcare, Barco, a leader in healthcare IT systems, has developed the industry's only completely integrated offering for interactive patient care, raising clinical productivity and patient comfort to the next level. The solution, called CareConnex, is powered by Hospedia, the world's largest operator of point-of-care bedside software.
CareConnex is a patient entertainment and communication system delivered over a range of touchscreen all-in-one smart terminals. Critically, it includes an advanced software interface and all associated accessories and systems required for installation in the patient room. CareConnex also serves as an interface for clinicians to access electronic medical records, hospital information systems and other healthcare applications at the point of care. Focusing on the intersection of patient-centered care and clinical efficiency, CareConnex enables healthcare providers to position themselves for success.
Personalised patient experience
In a highly competitive healthcare market, patient-focused services are becoming increasingly important, and healthcare providers are willing to invest in solutions that put patient comfort first. After all, patient satisfaction is a valuable indicator of the quality of care delivered.
Barco's patient entertainment system offers these services at the touch of a button. TV, radio, Internet, games, and other media applications are accessible directly at the bedside. The system also serves as a dedicated patient portal, featuring self-service options – including room and bed control, electronic meal ordering, and satisfaction surveys – and digital educational resources to improve clinical outcomes.
As a proof point of what Barco is able to provide, the CareConnex Smart Terminals form the front end of a pioneering networked bed concept installed at the Alexianer Krefeld Hospital in Germany. In addition to full patient entertainment and communication services, patients can control their beds and access hospital management functions through the terminals. Using existing IT systems and infrastructure within a hospital, CareConnex can be deployed to improve everyday clinical routines too. In most hospitals today, a host of IT solutions such as HIS, EMR and PACS are already in place, but their benefits are often not fully realized. Often inaccessible at the point of care, these systems do not allow sharing of patient data at the bedside which can result in duplicated efforts and inefficiency.
CareConnex addresses this by providing a user-friendly IT platform directly at the bedside, from which staff can access a range of clinical applications, including HIS, EMR, PACS, blood results, e-pharmacy and patient admission systems – without facing the security and maintenance issues that are typical of mobile devices. This way, substantial measurable improvements in clinical efficiency can be achieved.
Tapping into new revenue streams
CareConnex creates new opportunities to improve hospital profitability as well as efficiency. The solution allows providers to offer and promote paid services that are personalized to the patient, such as videoon- demand, TV bundles and gaming to help generate additional revenue.
Capitalizing on the opportunity for patient interaction, the system offers dynamic advertising options – respecting the sensitivity of the hospital environment – to recommend particular brands and to communicate the hospital's values and qualifications, gaining patient trust and adding to the overall care experience. In a time when healthcare reform discussions are the order of the day, interactive solutions – such as Barco's CareConnex – hold the key to the transformation of the delivery of care.
More on the subject:
More on companies: