Biotechnology
Engineered muscle for the treatment of heart failure
MBM ScienceBridge GmbH successfully negotiated a license agreement between Georg-August-Universität Göttingen Stiftung Öffentlichen Rechts, Universitätsmedizin (UMG) and the biotech company Repairon GmbH about commercial production and use of engineered human myocardium for heart failure repair. The production methods are based on the scientific work from the group of Prof. Dr. Wolfram-Hubertus Zimmermann, Director of the Institute for Pharmacology and Toxicology at the UMG.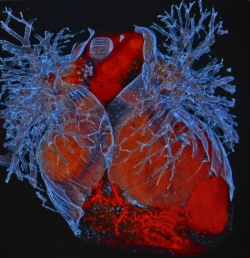 "The translation of tissue engineered heart repair for patients with heart failure is one of our major goals and perfectly in-line with our institutional strategies at the UMG, its vibrant Heart Center, and the German Center for Cardiovascular Research at its partner site Göttingen" stated Prof. Zimmermann.
Under the terms of the exclusive license agreement UMG will receive upfront payments, annual minimum license fees, clinical and commercial milestone payments and royalties. According to Dr. Jens-Peter Horst, CEO of MBM ScienceBridge GmbH, this agreement is exemplary for the successful transfer of fascinating academic innovations into a promising biotech startup.
With more than 20 million patients affected world-wide, heart failure is one of the most common, deadly, and costly diseases. One out of five individuals above 40 years of age is diagnosed with heart failure. Life expectancy is less than 12 months in severe cases. Classical drug therapy for heart failure is insufficient to stop disease progression and to restore function in the failing heart. Heart transplantation is and will remain very limited irrespective of measures to enhance donor organ allocation. Stem cell-based tissue engineering has the potential to provide a curative treatment option for patients with heart failure. The newly developed methods at UMG now allow for generation of human heart muscle under defined conditions from stem cells with promising preclinical evidence for its applicability as first-in-class engineered heart muscle therapeutic in heart failure.
Source: Universitätsmedizin Göttingen - Georg-August-Universität