Article • Molecular targeting for better results
Emerging novel tracers for cardiovascular imaging
Molecular imaging, guided by novel tracers, is emerging as an important diagnostic and therapeutic tool in cardiovascular medicine. Delegates at ICNC-CT, the online International Conference on Nuclear Cardiology and Cardiac CT, also heard that cardiology can learn from fields such as oncology and neurology that have already made important advances in this area.
Report: Mark Nicholls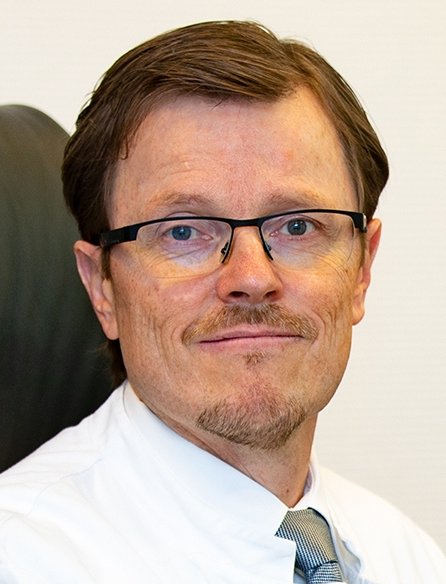 Professor Frank Bengel, who is Director of the Department of Nuclear Medicine at the Hannover Medical School in Germany, outlined how promising molecular-targeted tracers in cardiovascular imaging may help better understanding of the mechanisms in the heart.
Cardiovascular therapy still centres around mechanical interventions guided by anatomy, function and physiology, and also involves 'blockbuster drugs' such as ACE inhibitors and statins, assessed clinically or serum parameters. Acknowledging these areas have less need for novel imaging, Professor Bengel said: "The area that is growing very rapidly and needs specific image guidance is the field of targeted therapies." As they are expensive, and do not work for all patients, he said it is crucial to select the right individuals for this type of therapies via tissue specific biomarkers "and this is where molecular imaging testing has value." He also pointed out with the shift to molecular targeted therapies already under way in oncology and neurology, cardiology can learn from these areas and use tracers from these fields as molecular targeted tracers for guidance of nuclear therapies in cardiovascular care. "As we use novel molecular target approaches," he continued, "we also benefit from the development of our imaging technologies, which is driven by morphology and physiology and function and gives us ever more accurate systems and ever higher resolution."
He specifically focused on the 3-i approach of:
infiltration,
inflammation and
infection in the cardiovascular system.
For infiltration, or infiltrative cardiomyopathies, he said it is known that we can image sarcoidosis involvement of the heart well with FDG (Fluorodeoxyglucose), although it is not always straightforward because of the need to suppress the healthy myocardium effectively to avoid non-specific update of FDG. In amyloidosis, bone scans detect cardiac involvement, but this is another area with learning points from other fields, notably brain imaging where amyloid targeting tracers have been developed for detecting amyloid in Alzheimer's disease. "Now that we know these tracers can be used to absolutely quantify the amyloid involved in the heart and other organs, that is something we are going to see more about in the future," said Professor Bengel.
Inflammation, he said, is a key future development of novel targeted therapies and intervention in cardiology, not just infiltrated cardiomyopathies such as sarcoidosis but also in healing after myocardial infarction where inflammation is a physiological response. FDG works well for the detection of various devices infections such as prosthetic valve, or LVADs (left ventricular assist devices) but here, as FDG accumulates in the inflammatory cells that are being triggered by bacterial infection, the process is about imaging the inflammatory response to the infection. "This is why some people are now working on developing tracers that are directly targeting bacteria," he suggested. His lab has been working with Ga-DOTA-Maltohexaose, a tracer that only accumulates at sites of bacterial infection, although he acknowledges further research is needed.
As cardiovascular medicine evolves to more molecular targeted therapeutic intervention, the role of these molecular imaging approaches will continue to grow in the future

Frank Bengel
As regards healing of damage tissue after myocardial infarction, there is the risk of too much or persistent inflammation. Here, he said, intervention that targets or attenuates inflammation may be beneficial for patients to prevent heart failure. This "complex inflammatory response" can be examined with molecular targeted tracers, but while FDG is not the "perfect tracer" to do this because of lack of specificity, there are other tracers that target subgroups of inflammatory cells more specifically. He pointed to the example from his lab of one targeting chemokine receptor CXCR4, that is expressed on almost all leukocytes.
"What we learn from using this tracer is that early after acute myocardial infarction you get a specific signal from the infarct area and the higher the signal, the higher the likelihood that patients will subsequently go into heart failure and suffer cardiovascular events," he explained. "So, we may have a measure here that may give us information about how further healing of the infarct will develop over time and if something shows us that signal is indicating a high risk, we may be able to modify this signal at early time point. We are going to see more about those inflammation targeted tracers in the future and learn more about their value in the guidance of heart failure therapy." Another novel set of tracers, he said, are those targeting tissue fibrosis, or precursors of tissue fibrosis.
In conclusion, Prof Bengel said: "Molecular imaging, especially imaging of 3i - infiltration infection and inflammation - emerges as an important diagnostic and therapeutic tool in cardiovascular medicine. While cardiovascular medicine is still mostly mechanical medicine, there is already growth in these areas of imaging, for example, for guidance of implant infection. As cardiovascular medicine evolves to more molecular targeted therapeutic intervention, the role of these molecular imaging approaches will continue to grow in the future."
ICNC-CT was co-organised by the American Society of Nuclear Cardiology (ASNC), the European Association of Cardiovascular Imaging (EACVI), and the European Association of Nuclear Medicine (EANM).
The session on novel molecular-targeted tracers also heard Professor Jamshid Maddahi, Professor of Molecular and Medical Pharmacology at the David Geffen School of Medicine at UCLA, discuss promising perfusion tracers in cardiovascular imaging and Professor Ahmed Tawakol, Director of Nuclear Cardiology and Associate Professor of Medicine at Massachusetts General Hospital and Harvard Medical School, outline promising MR tracers.
Profile:
Professor Frank Bengel is Director of the Department of Nuclear Medicine at the Hannover Medical School. His research focus is on the application of non-invasive imaging techniques for the assessment of functional mechanisms in the cardiovascular system and advancing nuclear imaging techniques targeting blood flow, metabolism and autonomic nervous system of the heart.