Early warning systems for cardiac care
Various record systems that transfer patient data directly from an emergency site to physicians' monitors for diagnosis of cardiac incidents were demonstrated at MEDICA 2006.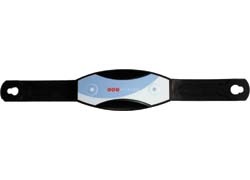 These included CorBelt (Corscience GmbH & Co.KG - www.corscience.de) a small, mobile event recorder with automatic alarm reported to be the first device of its kind with integrated Bluetooth data telemetry, which will automatically transmit an alarm if life-threatening conditions occur. The device is used just like any conventional recorder. The maker points out that it has an integrated motion sensor that reduces false positive event detections and, due to its dry electrode technology, the belt can be used without electrode gel or adhesive electrodes, making it suitable for a continuous monitoring of high-risk cardiac patients.

The viport event recorder (Energy-Lab Technologies GmbH - www.vicardio.de) is also small. This recorder provides a three-lead measurement of all the patient's standard ECG parameters. The measuring device is placed on the patient's chest, where it registers a multi-lead ECG signal. Computed data is transformed into a 3-D heart-portrait, shown in real time on the colour display. At risk patients can be measured at home or on the way to hospital, for current heart rate, cardiac arrhythmia and current intensity of the cardiac stress load. Storing up to 20 data sets, these are transmissible via Bluetooth to a physician.

Researchers from the Health Telematics Group at the Fraunhofer Institute for Biomedical Engineering (www.topcare.info) presented a really sophisticated solution - the TOPCARE-Box, a multipurpose telecare system designed for telemonitoring patients at home, which enables supervision of homecare therapies by healthcare centres. According to the patient's illness pattern, several diagnostic or therapeutic medical devices can be connected to the box, e.g. Bluetooth ECG, Bluetooth pulse oxymeter, or a cycle ergometer. All data are transmitted via the internet to a server, where they can be accessed by authorised health professionals using the web browser.

Pacemakers
In the pacemaker market, ECG monitoring features are quite common, but now Concerto, a new pacemaker generation from Medtronic GmbH (www.medtronic.de), is the first device to incorporate an early warning system for heart insufficiency, and to have integrated fluid control that gauges electronic resistance in the thorax. A decrease of impedance signals dangerous water accumulation in the lung, which can result in death. In the case of a decrease, Concerto gives an early signal, so that the patient has enough time to take his or her medication and avoid the worst.