Digital dictation designed for efficient radiology reporting
Grundig Business Systems, showcased a digital hardware with a slim, ergonomic design and a smooth finish for convenient radiology reporting at the RSNA 2007. The DigtaSonic x420 mobile dictation recorder has a clear, bright color display which shows all functions as symbols.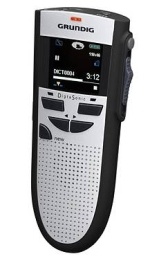 The ergonomically shaped, high-quality casing of the DigtaSonic x420 mobile dictation recorder features the new 'Soft Touch Composite' finish and a smooth, rubberized coating; while the familiar slide switch makes for easy, one-handed, intuitive operation. Supporting the improved DSSPro voice standard, the DigtaSonic x420 boasts enhanced security as well as optimum sound quality. Voice files are encrypted during the recording of a dictation to allow the user to securely record and transfer confidential data using the dictation device.

With its tall design, smooth finish and extra-wide slide switch, the DigtaSonic xMic digital dictation microphone is geared towards enabling users to speak for longer without discomfort or strain. The DigtaSonic xMic includes trackpoint control with mouse buttons and also supports the new DSSPro standard. Following a detailed ergonomic study, the microphone was deliberately designed with a tall, slim look to enable users to keep their hand low and supported rather than having to constantly lift the device up to speak. It is weighted specifically to sit more comfortably in the palm and its smooth, sleek finish comes courtesy of the new black 'Soft Touch Composite' rubberized coating.

The docking station of the newly designed Digta CordEx wireless dictation microphone connects with the PC through a USB port, offering radiologists maximum flexibility when recording dictations. The versatile microphone features an extra battery option to allow for almost limitless recording time. Users can move freely inside a radius of 20 to 25 feet. A visual and audible warning is issued when a user moves out of range, while the dictation is simultaneously saved in the temporary memory for voice data.