Digital diagnostics in the catheter lab
The VISUS system integrates cardiology modalities from all major manufacturers. Due to the company's long experience with the communication standard DICOM, which is the corner stone of the integration of images in the PACS, images which are not available in DICOM format are digitalised with the help of a frame grabber, basically an analogue-digital converter.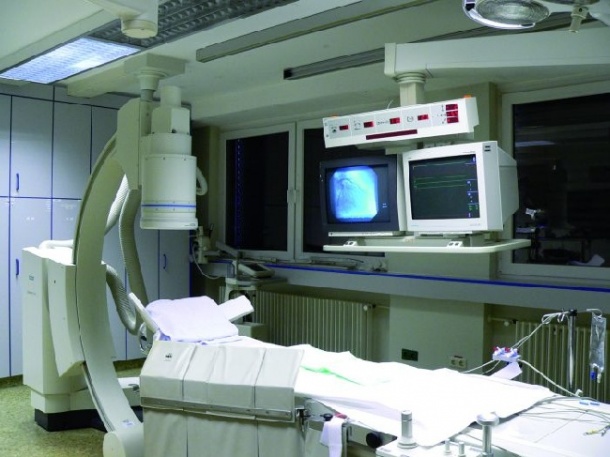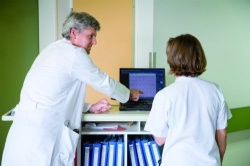 During diagnostics, routine steps are automatised by highly complex so-called hanging protocols. The knowledge of medical diagnostics experts was tapped for the development of the software. However, the hanging protocols can be adapted easily to an individual physician's preferences. The system ensures fast and efficient diagnostics supported by integrated special solutions, such as LVA and QCA measurements of Pi Medical.
The solution can be seamlessly integrated into the workflows of a cardiology information system in order to optimise efficiency.
ECG diagnostics and documentation
ECG data can also be integrated into the solution. During diagnostics, the amplitude is measured in one step. The physician thus saves time and can offer a reliable assessment of the cardiac status.
All measurements are documented as a revision-safe summary report and archived to be accessed hospital-wide by all authorised users. Images can be viewed either via a web or a workstation application. If needed, they can be printed in original size.
Since the cardio data are available digitally, the physician can easily compare them to previous exams and diagnostic results and via the PACS with any image material, for example from the cardio lab or MRI.
Flexible archiving, fast access
The user selects the images and sequences to be archived. Storage is flexible and can be adapted to the individual customer's requirements. The data can be stored online, in a storage area network (SAN), on network attached storage (NAS) or a directly connected RAID system. Offline archiving media are DVDs, BluRay discs or magnetic tapes that can be managed either manually or by a robot. Before the image data are archived, the leading information system is notified. A comparison with the order communication ensures process quality.
The JiveX Storage Service for PACS (SSP) is a further option for long-term archiving. This service offers the customer the possibility to archive data in an external storage facility which is operated by a service provider. This option is particularly cost-efficient since the pay-per-use plan does not require up-front investments and does not bind capital. The costs are plannable as no additional expenditures for migration, administration or maintenance are incurred.