Digital dashboard software for PACS admin
Eastman Kodak Company is selling its new Carestream Digital Dashboard software that enables system administrators to monitor equipment performance, storage utilisation and user volumes for the company's Carestream PACS and information management solutions. Kodak also reports that the next version of this software will support monitoring of the Carestream Radiology Information System (RIS).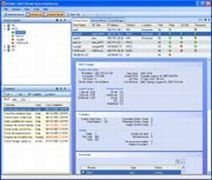 'Without leaving their desks,' says Kodak, 'PACS administrators can use the digital dashboard to verify that devices are operating and communicating on the network. A simple red/yellow/green display gives immediate feedback regarding the status of any monitored device. An integrated, product-specific menu enables the launching of frequently used tools with a single click. The dashboard also makes it easy to track the number of concurrent users for a device, the number of read and unread imaging studies, as well as the status of other tasks.'

At Cedars-Sinai Medical Centre, in Los Angeles, California Imaging Informatics Manager David Brown, said he monitors five PACS and storage archive servers, using the new software. 'If I see a process is in trouble, or a directory is almost full, I can take action before any of our users are impacted. Most PACS administrators don't have time to go into UNIX to conduct individual checks,' he added. 'Dashboard does, automatically. It also provides access to database information, including database table space that is not available anywhere else.'

At another test site for Kodak's new software – St. Vincent Mercy Medical Centre in Toledo, Ohio – PACS Administrator Leslie Beidleman reported that it identified a glitch: 'One of the dashboard indicators identified that some of our studies were not being backed up, and it highlighted areas of malfunction so they could be corrected.'
Further details: www.kodak.com/go/health.
More on the subject:
More on companies: