CoreValve banned, Edwards assures valve implants for German patients
An injunction against the sale of Medtronic's CoreValve and CoreValve Evolut systems in Germany went into effect as Edwards Lifesciences posted the bond required the District Court of Mannheim.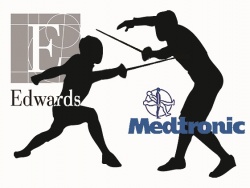 In July the court agreed with Edwards' claim that Medtronic infringed on the company's Spenser patent, which is valid to 2022. Medtronic is appealing the ruling, as well as contesting the validity of the Spenser patent at the European Patent Office. Meanwhile the court's ruling takes effect, with Edwards specifing that the court not only prohibited the sale of the CoreValve systems, but further ordered a recall of these products.
"Our German counsel has advised that Medtronic should request the return of all valves from commercial customers," noted Sarah Huoh, Senior Director for Global Communications at Edwards.
Germany is Europe's largest market with 90 implanting centers, accounting for 26% of the total in 2011, according to a May, 2013 article in the Journal of the American College of Cardiology (JACC) on TAVI adoption trends in Europe.
Edwards also said it is reaching out to German heart centers to assure all patients in Germany have access to transcatheter aortic valve implantation (TAVI), offering training and proctoring with the Sapien system.
More than 80 percent of the centers in Germany offering TAVI procedure currently utilize the Sapien XT valve, the company said, leaving between 15 and 20 centers to be approached.
In a statement, Edwards said while it believes it is important to protect its intellectual property, the company is providing for exceptions to the injunction to ensure German physicians continue to have access to therapy where the Edwards Sapien XT valve is not indicated for a patient.
Subject to Medtronic's cooperation, said Huoh, the specific uses are for patients with an aortic annulus greater than 28 millimeters, valve-in-valve procedures, and patients who can tolerate only a subclavian access site.
There are 40 such "compasionate cases" each month in Germany, the company estimated, adding that it will not seek compensation for the valves used in these cases.