CONTRAST at the right time - at the right place
Medtron AG, which designs and markets high-performance contrast agent injectors for use in CT, MRI and angiography, constantly aims to meet the demands of the latest scanner generations and advancing medical requirements, along with patient comfort and cost effectiveness.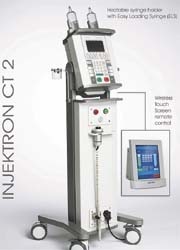 'Injection systems for simultaneous or sequential injection of contrast agent and saline solution, meets those demands,' Medtron points out. 'We recognised at an early stage the chances of CANopen technology and were the first to support an interface based on this standard.'

Based in Saarbrücken, Medtron has qualified partners in many countries who distribute and maintain the firm's devices and corresponding disposables - e.g. syringes, automatic filling kits or specially designed customer solutions.
More on the subject:
More on companies: