Clever kiosk scoops EAFS award
A potentially life-saving kiosk has been voted the best self-service application of 2009 by the Board of the European Association for Self-service (EAFS), during Kiosk Europe Expo 2009, held this May in parallel with Digital Signage Expo 2009 in Essen, Germany.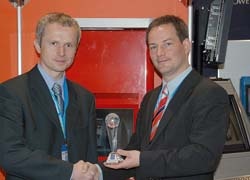 The EAFS Board considered the first aid kiosk, named Hawk Healthcare, to be an outstanding example of the considerable benefits self-service solutions can provide to the public. The elegant, slim-line kiosk, designed and manufactured by Prague-based Power Products*, has a top roof and HiBright LED lighting, making it suitable for installation indoors or outdoors in public places, e.g. shopping malls, railway and bus stations.
There, Hawk Healthcare will provide first aid and emergency equipment and also automatically contact emergency services for help if someone is suffering heart failure. During an emergency, a helper breaks the kiosk glass and turns a knob to open a door that allows access to a suitcase containing a defibrillator. The built-in mobile phone then automatically contacts the emergency services, which can dispatch an ambulance to the kiosk's precise location, thanks to the suitcase's inbuilt GPS module. Simultaneously, a simple, continuous, step-by-step presentation, displayed on the vandal-proof touchscreen on the kiosk front, is providing the helper with guidance on defibrillator use.
This innovative kiosk also has a double life: when not in emergency use, it can provide public information.
The event, which drew almost 3,300 visitors, presented many other solutions specifically for healthcare use, such as kiosks to enable patients to check-in at surgery reception desks, as well as have complete control of their medical and personal data; self-service terminals to find hospital departments and digital signage solutions for information and entertainment points in surgeries and hospital waiting rooms.
Diary date: Next year, Kiosk Europe Expo 2010 and Digital Signage Expo 2010 will be held in Essen from 15–17 June.
*Power Products supplies kiosks, self-service terminals, special monitors, LCD panels, touchscreens and industrial and military monitors.