Event
Chicago's AACC 2014 highlights
'Never-before-seen breakthroughs in diagnostic research and technology' were revealed during July's American Association for Clinical Chemistry meeting in Chicago, where up to 20,000 people packed in for research updates.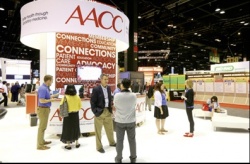 Ebola - Abstracts included research on a portable blood test that detects low levels of Ebola – and the closely related Sudan virus – in 10 minutes. With technology found in home pregnancy tests, testing is possible in resource-limited settings prone to Ebola outbreaks and by people without extensive medical training. Early testing to identify, isolate, and treat Ebola cases quickly would be vital in preventing future outbreaks as huge as in West Africa.
Obesity – Jeffrey Friedman MD PhD, presented his research on the role leptin (the hormone he discovered) plays in obesity and the importance of approaching obesity as a medical issue, i.e. not driven by environmental factors or weak willpower.
Alzheimer's testing – Exciting research that could lead to a treatment to halt or slow Alzheimer's disease was revealed by Amrita Cheema PhD, one of the co-developers of an early blood test for this widespread disease.
Big Data – Viktor Mayer-Schönberger, co-author of Big Data: A Revolution That Will Transform How We Live, Work, and Think, offered actual examples to demonstrate the predictive power of big data and how it improves care by enabling researchers to analyse thousands of medical data points at once, rather than limiting their focus to a single question.
Following this, Mayo Clinic researcher Piero Rinaldo MD PhD examined how big data can help to avoid false positives in new-born screening, thus preventing un- necessary or even harmful medical treatment.
Patient power – Eric Topol MD, winner of the AACC's 2014 Wallace H. Coulter Lectureship Award and director of the Scripps Translational Science Institute, pointed out that patients are now more empowered due to smartphone and other mobile health apps that enable them to collect their own health data.
Among the 650 exhibitors' innovations were examples of lab-on-a-chip technology, including the very first human papillomavirus DNA test approved by the USA's FDA for primary cervical cancer screening, and the newest tests in reproductive health, infectious diseases, drug testing, and more.