Ultrasound
Carestream rolls out Touch Ultrasound
The most unexpected news at RSNA 2014 came from Carestream, a leader in x-ray imaging, when it announced it is entering the highly competitive and crowded field of ultrasound diagnostic imaging with the Touch Ultrasound System.

Report: John Brosky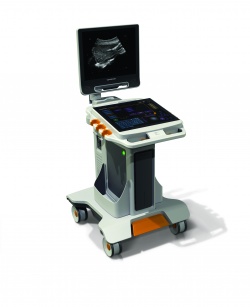 "Do you think we might have surprised a few people?" asked Helen Titus, the Worldwide Marketing Director for Digital Capture at Carestream. While it may seem a bold move, it makes good sense for the company, she explained. "We have a strong history of listening to our customers and bringing them innovative solutions," she said. "We are already knocking on the doors of radiology departments, we have a world-class sales and services organization, so ultrasound becomes a natural fit for that infrastructure."
Current ultrasound systems fall short of customer expectations, creating what she called gaps where Carestream that creates an opening for the new Carestream Touch Ultrasound platform. "Because we do not have legacy products in ultrasound, we were able to start with a blank slate in responding to the needs that we have heard from sonographers and medical professionals," said Titus.
Carestream's product development team then turned to best-in-class suppliers seeking out state-of-the-art technology. The new Touch Ultrasound System is powered by an integrated graphics processing unit (GPU) that enhances image quality while accelerating image acquisition and workflow. Cold boot time of an unprecedented 18 seconds further enhances productivity. The most striking feature that inspires the name for the new system is the unique all-touch control panel. This intuitive, tablet computer-like interface will clearly differentiate the Touch Ultrasound System, said Titus.
Primary ultrasound functions are etched on the sleek glass surface for fingertip control, she said, but responding to sonographers frustration with competing systems, Carestream allows system operators to configure secondary functions and applications according to personal preferences with touch controls. Once a user swipes a badge to log in to the system, the personalized configurations of that user instantly appear on the touch screen, she said.
Other winning features of the Touch Ultrasound System include the "Smart connect" transducer technology enables easy one-touch selection of the desired transducer from among the 14 probes offered. Lightweight with a reduced footprint, the Touch Ultrasound is easy to maneuver on a cart that is also highly adjustable for rapid positioning, thereby reducing repetitive stress injuries among sonographers.
At RSNA 2014 Carestream rolled out the first two products in the Touch Ultrasound family, which will begin shipping the third quarter of 2015. It came as no surprise to hear the company plans to expand and extend this family to a fully articulated ultrasound line.
More on the subject:
More on companies: