Cardiac magnetic resonance imaging
The potential of cardiac magnetic resonance imaging (CMRI) is still largely untapped. One novel application might be ablation follow-up. The first MRI-guided cardiac interventions were performed at Herzzentrum Leipzig, but, as far as coronary imaging is concerned, MDCT remains superior to MRI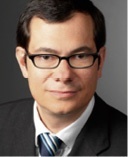 The diagnostic potential of CMRI has not yet been fully explored. 'Myocardial tissue differentiation – the detection of inflammation, fibrosis and scar tissue – will be further improved and objectified,' says Professor Matthias Gutberlet. The Director of the Department of Diagnostic and Interventional Radiology at Herzzentrum Leipzig and professor for cardiovascular imaging at the University Leipzig expects MRI to play an increasingly important role in prognostic evaluation of patients with infarction, cardiac myopathy or inflammation.
'Another big issue in CMRI application will be therapy follow-up in rhythmology and the evaluation of pathological cardiovascular haemodynamics with 4D flow,' he points out (Fig. 2). While MRI is already the method of choice for volumetric and functional analyses no single cardiac imaging procedure, Prof. Gutberlet says, has or will have a monopoly. More likely, hybrid imaging procedures, such as MR/PET or PET-CT and image fusion technologies, will prevail (Fig. 3). 'No single modality will be able to offer one-stop shopping capabilities,' the radiologist predicts.
With regard to coronary imaging, the professor is sure that multi-detector computed tomography (MDCT) will retain its advantage (Fig. 4 a). 'Unlike MDCT, MRI has not advanced significantly in the past few years,' he explains, and he doubts it will gain substantial ground soon. However, CMRI may well conquer image-guided cardiac interventions. 'In our institution, together with the rhythmologists we quite successfully performed MRI ablations in 10 initial patients with atrial fibrillation (Fig. 5). The rhythmologists are so excited that we will definitely continue our cooperation,' he confirms.
Rhythmologists consider CMRI particularly promising because the length of the ablation procedure is accompanied by high radiation exposure. Moreover, fluoroscopy does not provide sufficient anatomical detail. 'MRI offers clearly enhanced visualisation of the substrate pre- and post-intervention (Fig. 4 b, c and Fig. 5 b, c). Although we are far from routine use, we made huge progress in terms of feasibility and were quite surprised how well the procedure worked – albeit in a rather simple intervention,' he reflects optimistically, and underlines that the foremost aims are the reduction of radiation exposure followed by enhanced visualisation of anatomy and the arrhythmogenic substrate, as well as therapy success generally.
MRI despite a pacemaker?
Patients with implants, such as a pacemaker or ICD, require particular attention prior to MRI examination. 'These patients are not per se excluded,' Prof. Gutberlet says. 'They can well undergo MRI even if they do not have a so-called MR conditional device.' While the manufacturers continue to develop MR-safe devices, most of those available are not suitable for MR. 'Before an MRI exam, the device has to be checked by a cardiologist and set to a certain mode,' the professor explains. The patients must be informed that a certain risk remains due to the antenna effects of the ventricle electrodes. These are mostly thermal effects that might damage the device. MR conditional implant or not – one major problem remains unsolved: artefacts created by the device or the electrodes (Fig. 6). A pacemaker that is implanted on the left side causes artefacts right where the heart sits and the lead in the right ventricle can provide misleading information in imaging (Fig. 6).
*Reprint from 'RöKo HEUTE 2013', the official publication of the German Radiology Congress
Profile:
Professor Matthias Gutberlet MD has directed the Department of Diagnostic and Interventional Radiology at the Herzzentrum (Heart Centre) of Leipzig University since 2007. His research and teaching priorities are Doppler ultrasound and cardiac CT and MRI, above all in patients with congenital heart defect, cardiomyopathies, myocarditis and coronary heart disease (CHD).
The professor studied medicine at Marburg and Berlin, where he submitted his habilitation thesis on diagnostic radiology on MRI in patients with congenital heart disease. In 2012 and 2013, jointly with Professor Holger Thiele, he was scientific director of the German Cardiac Diagnostics Symposium in Leipzig.