Cardiac Devices in Heart Failure Patients assessed as beneficial
A new analysis presented during the ESC on the effects of cardiac resynchronization therapy (CRT) in patients with mild heart failure shows improvement in several areas, including left ventricular ejection fraction, a standard measure of the heart's pumping effectiveness and key indicator of heart health.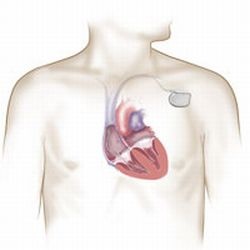 Patients with CRT experienced improvement in left ventricular ejection fraction (LVEF) from 28 percent at a baseline to 35 percent at 18 months; a healthy heart pumping effectiveness ranges from 50 to 75 percent. The new analyses also demonstrate the ability of CRT to prevent or slow the progression of the patients with mild heart failure.
Led by Prof Cecilia Linde, M.D., Ph.D., of Karolinska University Hospital, Stockholm, Sweden, and supported by Medtronic, Inc., REVERSE (Resynchronisation Remodeling in Systolic Left Ventricular Dysfunction) is the first large-scale, global, randomized, double-blind trial to evaluate CRT in mildly symptomatic heart-failure patients or asymptomatic patients who previously had heart failure symptoms.
"The positive results we are seeing from CRT in patients with mild heart failure are similar to those reported in patients with more advanced disease studied in earlier trials," dasi Prof Linde. "When we started the REVERSE trial, we found that although the patients had mild symptoms and were well treated with recommended druf therapies, their hearts didn't function very well in the left ventricle. These patients need treatment options beyond medication, such as CRT".
The new analyses presented at ESC included detailed data on the heart's left-ventricular function obtained via cardiac ultrasound. In addition to LVEF improvements seen at 18 months, a measure of the heart's volume and size (left ventricular end-systolic volume index, or LVESVi) improved with CRT from 95 ml/m² at the start of the trial to 68 ml/m² after 18 months. No similar improvements were seen in patients who did not receive CRT. These improvements are significant because cardiac structure and remodeling can correlate with improvements in patients' health in terms of delayed time to heart failure hospitalisations, which also was observed in the REVERSE study at 18 months.
Twelve month REVERSE data has been presented at a number of scientific congresses in Europe and the United States. Despite the trial not meeting statistical significance for its primary endpoint (percent of patients worsened at 12 months using a heart failure Clinical Composite Score), the data showed that more patients in the trial improved with CRT. The findings of the 12 months data were maintained at 18 months. The European, blinded cohort in the REVERSE trial continues to be followed for a total of 24 months; additional data on the effects of CRT over the time period will be released in the future.
CRT has been established as a proven life-saving therapy for patients with advanced stages of heart failure. However, REVERSE is the first large-scale trial to show that heart failure patients with milder symptoms, or no symptoms at all, might benefit from the therapy.
(Picture: Stanford Hospital & Clinics)