Buying a PACS? Think first!
Considerable analysis must influence your choice of system, advises Helmut Ringl MD, of the Department of Diagnostic Radiology at the University of Vienna General Hospital, where life without a PACS is now 'unimaginable'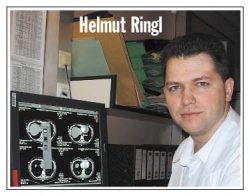 The advent of a digital network for picture archiving and communication systems (PACS) reduces all the steps in retrieval and archiving of images and previous diagnoses to minutes - or even seconds - and links the relevant diagnostic and other departments. PACS connects all modalities (CT, US, MRI, plain film, etc) to a central computer, which for security reasons stores the image data redundantly.

To leverage such a system's many advantages, a PACS of appropriate cize and scope must be chosen. Experience has shown that state-of-the-art equipment, such as a multi-slice CT scanner, can overtax a PACS that was not designed to accommodate it. Consequently, the workflow slows considerably, if not unacceptably. Therefore, before choosing a PACS, long-term planning, which includes the identification of all current and future devices to be integrated with the system, as well as the data volumes to be expected, is an absolute must. In addition, a PACS must allow for problem-free upgrades, to accommodate unforeseeable increases in data volumes.

As with pre-PACS solutions, digital archiving also offers fast access to expensive local storage devices, which hold images from the last 3-6 months, and a cheaper, bigger, long-term storage device with longer access times. 'Pre-fetching' avoids extended waiting periods: scheduled examinations are entered into the system hours, or days, before they take place which means the computer automatically loads the patient's data from previous examinations into the short-term storage.

The most important impact of a PACS is that it reduces the time span between an examination and final diagnosis. In the past, a delay of several days between examination and final diagnosis was not unusual because previously generated images had been forwarded temporarily to the patient or a physician. Today, with an adequately cized PACS and well-functioned pre-fetching, all images are available within minutes at all diagnostic workstations. The 'down time' of a radiologist and time to final diagnosis are reduced significantly.

Ideally, after the implementation of a PACS the entire workflow runs in the background - a radiologist no longer sees it. All images of the current examination and all relevant previously generated images can be retrieved with a few mouse clicks. This means that a final diagnosis is available much faster and thus the length of stay for our patients is potentially shorter.
Very often a comparison between several previous examinations is necessary to arrive at the best possible diagnosis, particularly when there are images of a previous surgical intervention. Since a PACS facilitates such a comparison - images are at your fingertips - this option is now being exercised more frequently, which without a doubt improves diagnostic quality. Furthermore, a PACS allows a quick and precise assessment of pathological changes by the comparison of current and previous examinations - a particularly important issue for hospitals with an oncology department.
With a PACS it is practically impossible to lose x-rays. Consequently, there are considerably less repeat images that put an additional radiation burden on a patient and are costly. As soon as all modalities are integrated into a PACS it is possible to re-organise staff capacities. On the other hand, additional technicians are required to control and maintain the system. Obviously, a PACS has to interface with the hospital information system (HIS) and, if available, the radiology information system (RIS). Patient data in the HIS are transferred to the RIS for scheduling purposes and then forwarded to the individual modalities. Thus, potential patient mix-ups become less likely. Fully compatible interfaces between the systems are essential to ensure error-free exchange of patient and diagnostic data. Experience has shown that the organisation and administration of such a system is easiest when as many programmes as possible are produced and upgraded by one cingle company. If there are interface problems it is often impossible to determine which programme or company is the source of the problem - a fact that inevitably leads to conflicts and accusations between the different vendors involved.

Additionally, modern PACS are web-enabled, which means images can be retrieved from every hospital-PC with an internet or intranet connection and the appropriate access rights. This improves communication between the referring and radiology departments. Most PACS already provide telemedicine modules, to be easily integrated on demand.

In a research environment the advantages of a digital archiving system are obvious. Comparisons between different examinations are easily achieved and no longer require additional costly prints. Moreover, measurements and quantification can be generated digitally and images can be transferred easily without loss of quality to presentations. In addition, pathologies can be searched for key words.
The overwhelming number of workflow and organisational advantages notwithstanding, a PACS has one crucial disadvantage. When such a system is completely down, the entire workflow comes to a standstill, and diagnosis is virtually impossible. Therefore, it is crucial that not only the system provides appropriate redundancy, but also that there are effective service and maintenance contracts and/or competent technicians who can react promptly to a problem.

In point of fact, a PACS significantly speeds up workflow and simplifies the organisation of a radiology department. It has become standard in all medium-cized and large hospitals, and also in my hospital, the Vienna General Hospital, where it is now hard to imagine our daily radiological routine without a PACS.