Article • Sensor technology
Breathing air systems
How can newborn babies benefit from sensors with chip technology and what might the future hold for sensor data? Samuel Wehrli, Product Manager for Gas Flow at Sensirion AG in Switzerland explained during our EH interview at the MST Conference held in Dortmund.
Report: Lena Petzold
Samuel Wehrli: 'Sensirion has committed itself to advancing sensor technology by equipping sensors with microchips. Sensors deliver important information in very different areas. In medical technology, the use of chip technologies is opening up brand new, exciting solutions. My team and I are part of this development.'
Why should sensors be equipped with chip technology?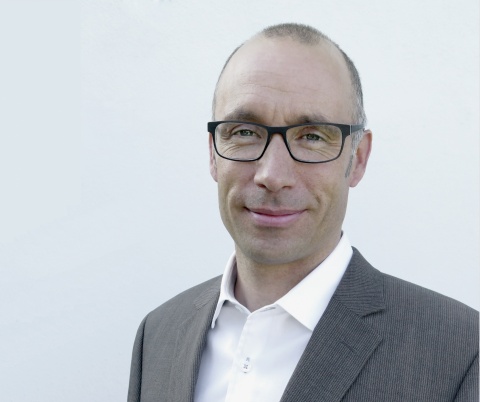 'Chip technology is utilised to process signals, or to calculate. Fusing it with sensors results in a signal that fits with a standardised protocol. Sensors with chip technology can therefore deliver the best possible information. What's more, chip technology is particularly scalable and suitable for mass production. Sensors equipped with chips can also be produced in the smallest format, a combination which leads to a significantly better and more stable product. The fusion with chip technology results in a high-quality, yet affordable mass market product for the customer.'
What makes a good sensor?
A sensor works within a system; the more functions can be integrated into the sensor, such as calibration for example, the more precise the information delivered

Samuel Wehrli
'In the first instance, it's the quality of the signal. The more precise the measurements, the better the sensor. When used with chip technologies, the signal colour and signal quality respectively are often very good, as the electrical wiring used is very compact, which reduces the failure proneness enormously. Technical processing also plays an important part. A sensor works within a system; the more functions can be integrated into the sensor, such as calibration for example, the more precise the information delivered. If breathing air is measured, for instance, the customer receives added value if they know how many litres per minute flow through the sensor rather than just being shown a curve, as is still the case with older generations of sensors.'
Where are sensors used in healthcare?
'In medicine, we work with flow sensor technology intensively, i.e. with the above-mentioned measurements of inhaled and exhaled air. Thanks to digitisation and new measuring procedures the precise monitoring of breathing air in medicine is becoming increasingly more detailed and opens up a broad field of opportunity for sensor technology. Neonatology is one of the new areas of application. Sensirion have developed a very small and light sensor in cooperation with some manufacturers of ventilators. A typical sensor is about the size of two matchboxes – too big for a newborn baby – which just about fits into a hand. Consequently, the new sensor is much smaller and impacts on breathing as little as possible due to its low weight. It also facilitates better monitoring of respiratory flow in young children.'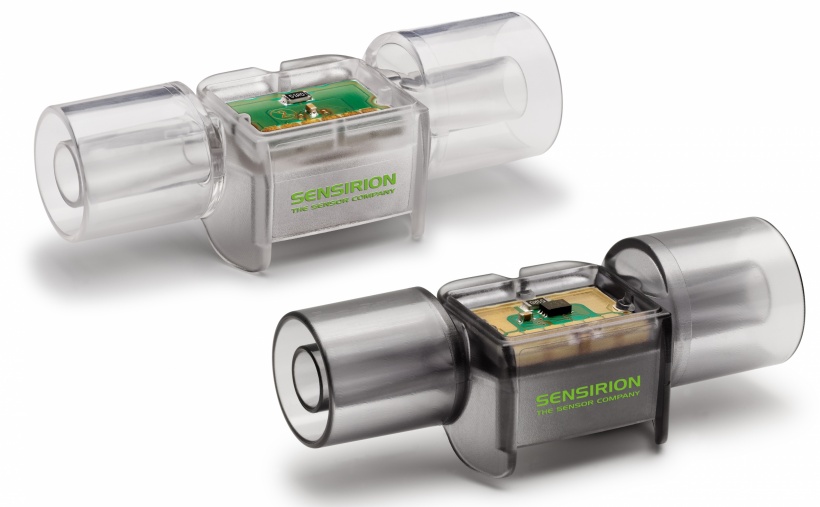 Source: Sensirion
How and where else could sensors be used?
'For the sensitive topic of hygiene standards in hospitals; sensors can contribute towards adherence to standards. Admittedly this is a challenge, as sensors come into contact with pathogens through human breathing air. This can be dealt with in two different ways: "single use" sensors, which are disposed of and which need to be available in large quantities at low cost, or sensors that can be sterilised and prepared for multiple use with wash or steam sterilisers. If the latter is the case, each sensor must be robust enough to withstand the intensive sterilisation procedure without damage, around 50 times. Both solutions prevent the transmission of pathogens.'
What is the future of sensor technology?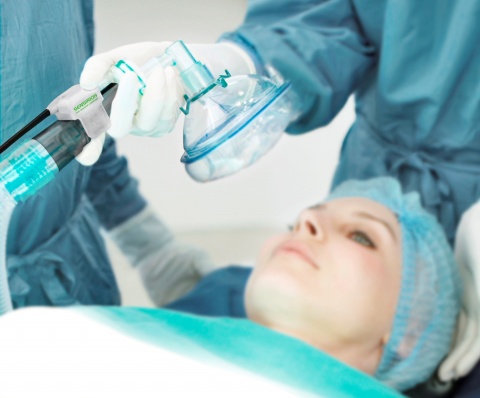 'There are many approaches as to how sensor technology can be advanced. One example is anaesthesia. Here the equipment mixes air with additional oxygen; the more precisely this concentration can be controlled and adjusted via sensor technology, the better for the patient. Sensor technology can be used wherever gas is in motion, i.e. for oxygen, CO2 or other substances.'
Data protection continues to cause heated debates. How do you manage data produced by sensors?
'Currently, the doctor evaluates the data selectively on a monitor and checks, for instance, whether a patient's breathing is okay during their ward round. If this data was saved in the Cloud, it could be analysed retrospectively, or cases could be compared and important insights obtained. However, at the moment this is still a long way off.'
Sensirion is at Medica
Hall 8a. Stand H19