Algorithms could cut CT costs & exposure
A German-US R&D collaboration is to commercialize a CT image reconstruction system that will yield enhanced image quality but with a lower radiation dose when compared with standard CT systems. Although initial applications are being lined up in industrial materials testing, talks are already under way with medical imaging vendors keen to exploit the technology in a clinical setting.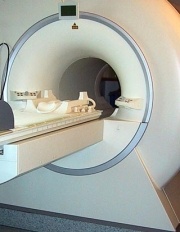 The reconstruction algorithms were developed by scientists at the German Research Center for Environmental Health (GSF), Munich, and their colleagues in the US at the University of Oregon (Eugene, OR). Now, in exchange for a one-off payment and a share of future sales revenues, the technology has been licensed to YXLON International Group Holding GmbH, a leading vendor of industrial X-ray and CT solutions for non-destructive materials testing.
YXLON, for its part, plans to market the system exclusively for commercial applications in material testing. However, medical applications are in the pipeline, claims Sigrid Scheek, technology manager at Ascenion GmbH, the company which negotiated the licensing agreement.
"The completed contract with YXLON is just the first step of our marketing strategy," she explained. "We are now concentrating on the field of medical diagnostics and are in talks with a number of parties."
The German-US team says the reconstruction algorithms provide improved raw data analysis, chiefly via more efficient removal of artefacts and background noise compared with standard methods.
"The system is even able to recognize microcracks in highly stressed components - for example, rotating elements in aircraft turbines," noted Christoph Hoeschen, head of the working group for medical physics at the GSF. The reduced radiation dose could also increase the lifespan of CT equipment, thereby reducing costs.
One thing is clear: with upwards of 140 million CT examinations carried out every year, there will be no shortage of interest in any technology that promises to cut equipment costs and radiation exposure to patients.